Since the invention of the cassette player, headphones have become more and more of a staple for everyday life. The problem that many people face now a days is, what kind of headphones should you buy?
It isn't like when the iPod first came out where you had the option of either their "new" and inventive ear buds or the classic over the ear headphones, today there are headphones for causal music listening, exercise headphones, gaming headphones, console specific headphones, headphones to block out noise, headphones to alter the balance of bass and treble, even headphones designed to amplify the effects of the audio vibrations in your brain! With so many options, where do we even begin? What qualities should you even look for? How much is a quality pair?
Before we even begin the list, a brief description of the three major types of headphones might help to narrow down your search.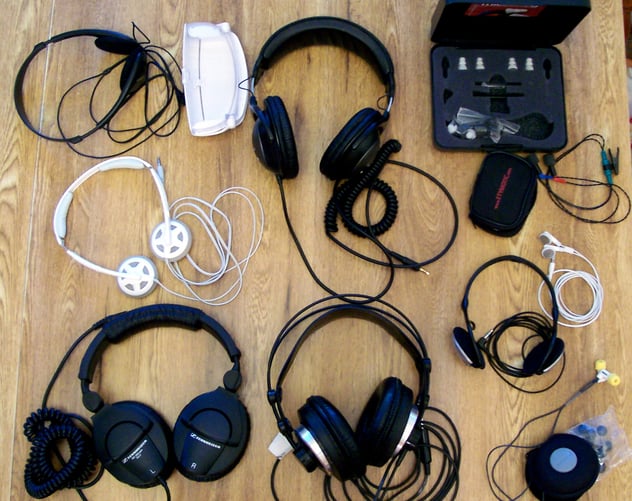 There is the classic over-ear headphones which fully surrounds your ear and blocks out external noise. Over-ear headphones are known to have the best sound quality as they cover your entire ear, especially when you're listening to music with a lot of bass. The downside to this type of headphone is obviously the size. Most Over-ear headphones aren't collapsible, making them less portable than the other two styles.
Next, there is the in-ear headphone. These are the best headphones to get for exercising, using for your phone, or your on-the-go headphones. They fit in your ears, are generally the least expensive of the three types, and come in a variety of styles. When it comes to in-ear headphones there are earbuds (normally have foam pads and hook over the ear), canal earbuds (silicone rubber or foam pads to fit inside ear canal), and noise cancelling earbuds (best at isolating unvarying, low frequency background noises). While there is the major pro of being able to listen to your music more quietly with in-ear headphones, reducing the risk of hearing damage and loss, there is the con of this style not actually being fitted to your ears so there is the annoying risk of them constantly falling out.
The third style is the on-ear headphone. They are similar to the over-ear headphone, but are smaller in design. As their name suggests, they go directly onto the ear rather than covering them entirely or going in them like earbuds. Using the same design as over-ear headphones, but with smaller pieces does have its drawbacks however. By using smaller drivers, some of the bass and natural stereo affect that is given by over-ear headphones is lost. However, they are more portable than over-ear and sturdier than in-ear.
The other factor that should be taken into consideration when buying a pair of headphones is whether or not you want a closed or open back to your speaker. Closed-back headphones provide a much higher level of sound isolation, meaning that they will block out more outside noise from the environment. Open-back headphones in contrast will leak more sound and allow more sound in, which might seem entirely negative, however this quality would be good if the headphones are being used in a quiet environment.
Now, unless you are a very serious audiophile and want to spend $1,369 on a pair of Sennheiser wireless HD800 headphones, $200 is a very reasonable cap to get headphones that will last you a very long time. So here is a list of the 3 best headphones (one of each style) that are $200 or less, are not only worth the money but also have the qualities to suit your daily life.
Audio-Technica ATH-M50X headphone:
If you're looking for something designed with studio monitoring, mixing, and high quality music listening in mind, then the Audio-Technica ATH-M50X headphone is for you. They come just under the $200 mark, ranging from $169 on Amazon to $200 when you buy directly from the company. They are an over-ear style headphone which means they aren't the most portable (11.4 x 10 x 4.1 in) and they come with a cable made specifically to work with Audio-Technicas, so a standard aux cable won't work with them, but the pros with these greatly outweigh the cons.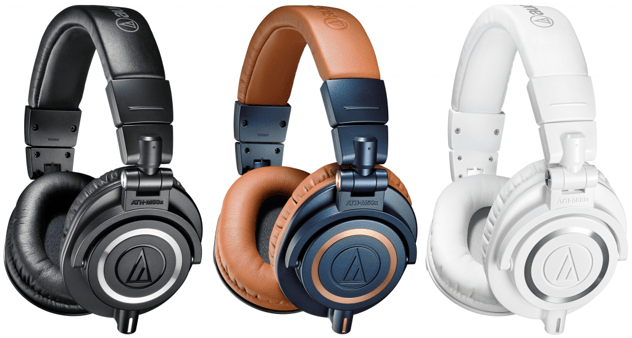 They have a closed back, folding style designed for isolation. They have a solid and study build, both earpieces flip over 180°, which is perfect for one ear listening at the office or at home with the kids. Each yoke (the metal rod attached the block that allows you to adjust the ear cup height) also picots 90°so each ear piece can be folded to lie flat in a bag. These headphones are designed for absolute comfort with leather padding and specially designed ear cushions for long term wearing.
When you buy these headphones, you receive a protective carrying pouch, a 6.3 mm (1/4") screw-on adapter, a 3 meter straight cable with 1/8" termination, a 1.2 meter straight cable with 1/8" termination, and a 3 meter coiled cable with 1/8" termination.
While I definitely wouldn't recommend these headphones for your early morning jog or to casually hold in your purse, these are easily the best headphones you can get for monitor and long term listening.
V-Moda Zn
Onto our second style mentioned before, the in-ear headphone. While there is a lot of controversy as to what makes a quality in-ear headphone, the thing I look for the most is durability. The in-ear headphones are portable for a reason, they go in your pocket, your purse, your gym bag, etc. Of course sound quality is a major factor, but what good is sound quality if your weights crush the wire or your makeup clogs the bud? For this, California based company V-Moda has provided the perfect solution.
The new V-Moda Zn is the first in-ear design produced by the company in four years and they are an audiophile's dream. Not only do these in-ear's live up to the extremely high sound standards of V-Moda, but this new design is guaranteed to survive even the most active of gym members.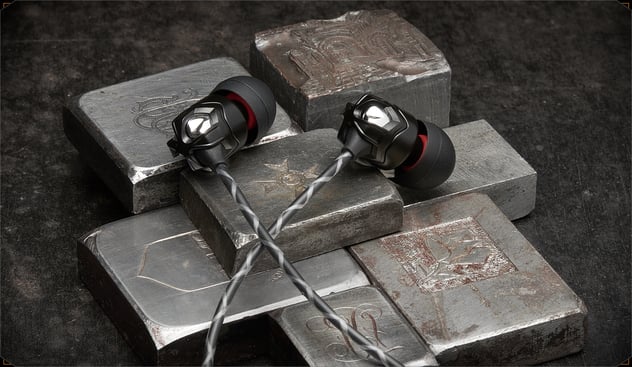 Each of the 8mm dynamic drivers is wrapped in a solid zinc (Zn) alloy housing. The company claims that this coating provides a "unique hardness and resonance nature to deliver a balanced sound." This kind of balance is important considering that in-ear headphones normally struggle to provide an adequate level of bass. The drivers in these headphones were designed specifically to counteract this problem. These new headphones offer a frequency range of 2 Hz to 25 kHz, 105 dB sensitivity (at 1 kHz 1mW), less than .5 dB distortion and 16 ohm impedance. What these numbers basically boil down to, is that these headphones were designed to comfortably play music within the volumes that are compatible with healthy levels for the human ear.
The cable for these headphones are also worth noting. The cable is diamond backed, but it's not just to compliment the metal coloring from the zinc. It's Kevlar-reinforced to help avoid the tangling problem that many in-ear headphone users have come to dread. Not only that, but each set includes a high sensitivity microphone for taking calls and communicating with smart phone apps as well as patented ActiveFlex sport earhooks. These earhooks are designed to have the cable fed through them so you can experience the same high quality music you would at your desk while you're working out. They ensure that the head phones stay in place no matter how rigorous your day might be and are easy to slip on and off.
The headphones come in two main styles, one for Apple and the other for Android. While they would be considered very pricey for an in-ear style headphone, capping out at about $180 from their website, they are worth it. This is arguably the most durable in-ear style on the market today, plus they are considered high fashion.
Jabra REVO
Out final style, the on-ear headphone is the most common on the market. The balance between portability, durability, and sound quality is something that many companies have been trying to master for years. Between Dr. Dre coming out with a new line of Beats every so often and Sennheiser coming out with a beautiful set that costs around 500 dollars, it almost seems like the on-ear option is very limited. However, that's not the case at all. The on-ear market is full of options and one brand/model in particular has gained a lot of notoriety.
The Jabra REVO headphone assures the quality of high end headphones while still staying true to our $200 limit. Much like the V-Moda brand, Jabra focuses heavily on durability and quality. Made of high quality aluminum and a steel framework along with being shatterproof, these headphones are perfect for those of us that live too fast to be as careful as we should be.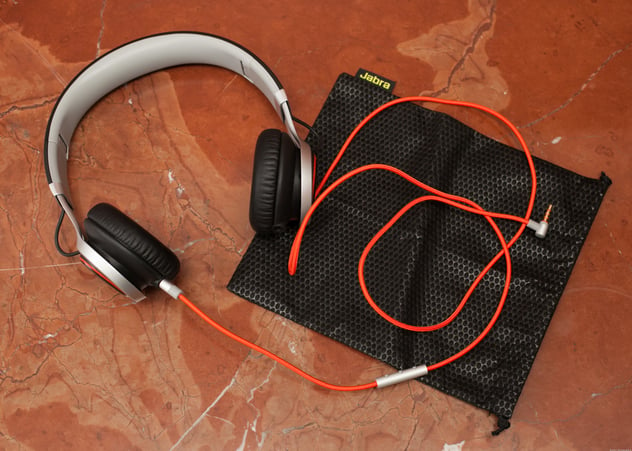 The headband for these headphones is flexible, able to withstand minor pressure and bending and the earphone jack and be detached so no need to worry about a ripped cable. Have you ever dropped your headphones from 2 meters up? Well Jabra has and the REVO has come out on top every time.
The REVO also has a built in microphone and is in-line compatible with smart phone calling features. So not only does it provide high sound quality for your music, but it can also be used for your conference call in the middle of the day!
One of the most interesting aspects of this headset is that, unlike the majority of headphones on the market today, the REVO has two headphone jacks. This extra jack makes it possible for another person to plug in their headphones and listen to whatever you're listening to as well. The REVO is normally listed at $199, but you can find a pair of these on Amazon for much less.
Headphones are something that every music lover needs in their life. So instead of going through ten pairs of cheap ear buds every year, why not invest in a quality pair that will not only suit your needs, but last you much longer?