In the past few weeks we've talked about what's going on up in the cloud, including big data and cyber security. We've yet to reach the innovations from the novels of Jules Verne and HG Wells—but we're getting there (time travel? I wouldn't rule it out at this point). And there's still the requirement of accessing oceans of data through a machine. Who knows? Perhaps the cloud will eventually materialize above our heads and we can access our accounts and files from thin air. For now, however, we must rely on computers and smartphones to enter the data dense world of cloud computing.
But there are measures to consider when utilizing these devices, especially when they're used as a primary business tool.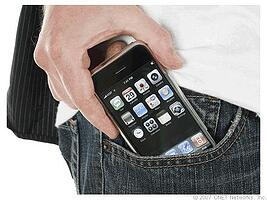 "Anarchy in a pocket"
"Smartphones have become anarchy in a pocket," wrote Tom Henderson on ITworld. "Without control, mobile devices are walking security time bombs in addition to being fascinating tools."
Security needs to be prioritized, especially with companies favoring the BYOD policy (bring your own device). Instead of using an old cubicle computer (and keyboard with stale lunch crumbs making you have to hit the spacebar just a little firmer), many businesses now have employees come in with their personal laptop, tablet, and/or smartphone and connect their device to the company's network server.
But accessing company data on the same device you play Farmville, as well as send your credit card payments, affirms Henderson's warning that these devices make us vulnerable targets; data loss, hacking of not only your personal data but company data as well, and so on.
To ensure security while using these devices, IT companies are now offering MDM (mobile device management).
What is MDM?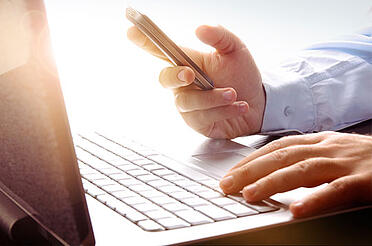 MDM is security software that manages and secures mobile devices deployed across multiple service providers and multiple operating systems. MDM is an all-scope method that monitors and protects business, employee, and clientele data from bugs in the system and cyber threats.
MDM detects technical issues while simultaneously making system updates (i.e. over-the-air, or OTA, programming).
Once upon a time, MDM required a spectrum of costs, including hardware and software maintenance. Today, MDM is offered as SaaS (software as a service), which means lower costs for system updates since the MDM is based in the cloud and usually part of the IT Managed Services.
For our next post, we'll talk more about MDM, including benefits and implementation.
Sources: itworld.com, webopedia.com
Images: mobile-libraries.blogspot.com, businesscomputingworld.co.uk