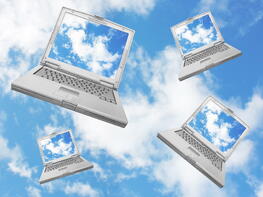 NSK is excited to announce that by the end of summer we will be offering a new managed private cloud service for businesses. Private clouds are designed to offer the same features of a public cloud system while allowing businesses to have more control over customer data and security. Essentially, the information businesses store on a private cloud is protected behind the company's firewall.
Managing your own private cloud requires expertise, money and time. Many businesses choose to use a third-party private cloud provider to cut costs and worries. However, not all third party cloud providers are created equal. Whether it is poor service, slow servers or too much downtime, businesses need to choose a cloud provider carefully. Luckily, NSK has addressed all of these issues with the new private cloud experience that will be faster, more affordable and efficient.
The new experience
What we have done is taken the average private cloud and enhanced its features resulting in a completely new experience for businesses. Our private cloud is more controlled compared to other private cloud services because we built it. That's right we built it all in-house thanks to our two IT consultants, Tim Dooher and Ryan Hickey, who are developing the entire private cloud structure. This means NSK has complete control over the ability to manage every aspect of the cloud. Dooher explains that NSK's private cloud will be, "…more powerful, robust and customizable compared to other private clouds out on the market."
The Benefits
Built in redundancy – We have designed a private cloud that will have the best in class service to minimize or eliminate downtime. On our cloud the information will be stored and mirrored on the server at all times. So if one server is down the other one will pull up the exact same information providing no disruptions on your end.
Consistency is maintained – One of the key features of NSK's private cloud is consistency. Meaning as your hardware ages your ability to access the cloud will not be affected. It is critical for businesses to use a cloud that will deliver the exact same efficiency and speed every time it is accessed. Our cloud will not disrupt your work and will perform consistently each and every day.
Scalability – We understand businesses are constantly changing and who has access to the cloud fluctuates. As your company expands or shrinks so can your cloud. With our private cloud scalability is more manageable compared to other private cloud offerings.
Contact Us
For any inquiries please contact us, our NSK team would be happy to answer any of your questions.