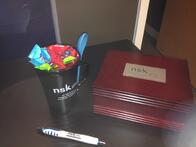 Check out the new mugs that we had made for the NSK Inc sales and marketing team. We thought it would be a great idea to give people ideas on what to do with the mugs besides just having tea or coffee in them while they are in the office.
We came up with these 9 Recipes and 7 Essential Tips for NSK Inc Mug Cake Baking (the recipes are below the tips). Please leave comments for any of the recipes that you might use.
First the 5 Tips
Anything microwaveable will work. Glasses, jars, ceramic ramekins, or even paper cups, but use your

NSK Inc

Mug. The most important thing is not to fill it more than half full with batter. Use your best judgment and experiment. It only takes one or two mug cakes to become an expert.

Again, don't fill any mug more than half full. This is the golden rule of mug cake baking. If you stick to that, you will avoid overflow.
Start with the shortest cook time your recipe lists first. Check the cake by carefully touching the top. It should be firm and springy, not at all doughy. If it's not done, keep cooking it in 15-second bursts.
Mug cakes will be blonde. The golden brown on the top of a traditional cake is created by caramelization of sugar, which occurs at 320ºF. A microwave doesn't get much hotter than 212ºF — the vaporization point of water. So your mug cakes won't brown, and that's fine; they may be finished cooking anyways.
Sinking happens. Mug cakes often deflate a little bit. They still taste delicious and there's no need to be discouraged — but don't fill it up more than halfway; it won't help.
1. Coffee Cup Quiche –

Original Recipe From: Buzzfeed From: St. Louis Post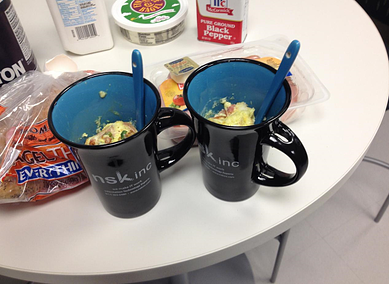 NSK Changed it up a little
Yield: 2 Servings
4 eggs
1 1/2 tablespoons milk
Salt
Ground black pepper
1 Everything bagel (we used the flat bread ones)
1 Tablespoon of Garden Veggie and Chives cream cheese
2 slices of ham
1. Beat egg and milk together with a fork in a bowl, or if you are just making it for one, you can do everything in the coffee cup. Add salt and pepper to taste. Tear beagle into small pieces; stir in. Add cream cheese; stir in. Tear or cut ham into small pieces; add to mixture.
2. Microwave on high until done, about 2 minutes. Eat it with your NSK Coffee cup spoon.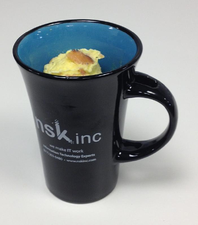 We tried this recipe on 3 NSK Inc IT employees.... All of them loved it.
Shawn Ojani: Thank you for the breakfast. It was very delicious!
Rich Hillard: Wow, that was good, I was kind of afraid when you first asked me to test it, but it turned out very good.
Tim Dooher: Oh that was good, I liked the cream cheese with chives, it gave it a great flavor.
2. Peanut Butter Chocolate Chip NSK Mug Cake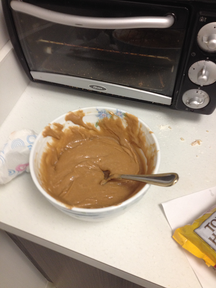 Recipe from: NSK's Kitchen
Yield: 2 Servings
4 tablespoons of flour
4 tablespoons white granulated sugar
1/4 tsp baking powder - Unless using self rising flour, then it is not needed)
1/8 tsp salt- (Unless using self rising flour, then it is not needed)
1 egg
3 tablespoons peanut butter - we used Peanut butter with dark chocolate spread, (it's what we had)
3 tablespoons milk
3 tablespoons vegetable oil
Chocolate Chips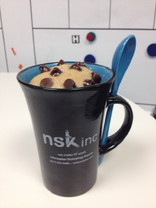 Combine all ingredients in an oversized or bowl. Stir well with a small whisk or fork or spoon. (whatever is available in your kitchen).. until smooth. Split mixture between two NSK Inc Mugs. Sprinkle the chocolate chips on top, just enough to cover the top of the batter. Microwave on high for 2 minutes, then take it out to check to see if it is done. If not, continue to microwave in fifteen second intervals. Mine was done at 2 minutes. You don't want to overcook it or it will become rubbery. Let sit for a few minutes, because when it comes out it is very HOT.
3. Blueberry-Flax Microwave Muffin
The ingredients for this particular muffin, where a bit hard to acquire, but if you have these items around this is a really good muffin. The original recipe was from SparkFeed, but we really changed it a lot. The recipe took us a couple of times to master, but now that we have it right, we must share.
It is extremely quick to make and a very, very nutritious, yummy muffin

Ingredients
1 ounce frozen blueberries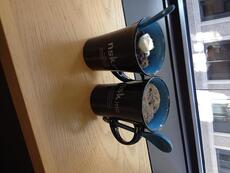 1/3 cup ground flaxseed
1/2 tsp baking powder
2 Tbsp pancake syrup
1/2 tsp orange zest (and a squeeze of orange juice)
1 egg
1/2 tsp nutmeg
½ tspn butter
½ tspn sugar

Directions:
Mix dry ingredients together thoroughly in a small bowl (flaxseed, baking powder, nutmeg, sugar, orange zest, then add egg, syrup & squeeze (just a couple of drops) of orange juice into mix. Melt the ½ tspn of butter in the NSK Mug, swish it around in the mug to coat the mug, and add the rest to the batter. Add the blueberries (do not over add blueberries, or they will drop to the bottom and you will have a blueberry mush at the bottom of your cup (we know, we did it, although it still tasted good). Pour into your NSK Inc mug, place mug in microwave for 120 seconds. This will make a tall muffin. You can add a little butter before eating, or plain works too.
We would love to get your comments if you make this recipe.
4. 2-Minute French Toast in a Cup Recipe
Idea from PrudentBaby.com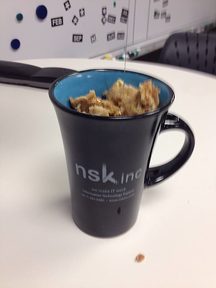 First you need bread. We toasted it before putting it in the mug. We used wheat bread, because that was what was in the fridge, but any kind of bread will do. It truly does not matter.
Ingredients:
2 pieces of bread
1 Egg
3 Tblspns of Milk
drop of Vanilla
Sprinkle of Cinnamon.
Break bread into bite size pieces. Butter the inside of the mug. You can either rub a pat of butter around, or you can melt the buter in a mircowave and slosh it around.
in a bowl add the egg
-add 3 tablespoons of milk
-sprinkle cinnamon
-drop of vanilla
Mix it all together with a fork. Drop the bite size pieces of bread into the bowl and mix until all the ingredients have evaporated into the bread.
Place the bread mix in our NSK Mug

Now stick your cup in the microwave. Start with one minute, then add ten seconds at a time until it's cooked to your liking (no runny eggs). In my microwave that's 1 minute, 20 seconds.
Mmm, eggy cinammon-y bread. Yes!
Add syrup. You have to have syrup. Or whip cream. But really, syrup.

5. Apple Crunch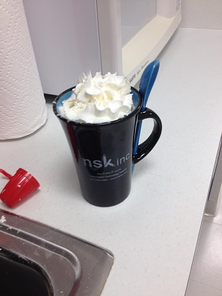 Origina Recipe From: Stop & Shop
Apple Crunch
serves 6

filling:
2 apples for 3 Mugs, such as McCoun, McIntosh or Granny Smith
I used 5 apples and made 7 mugs with the following recipe

1/2 cup sugar
1 teaspoon ground cinnamon
1 teaspoon freshly ground nutmeg
1/2 teaspoon ground cloves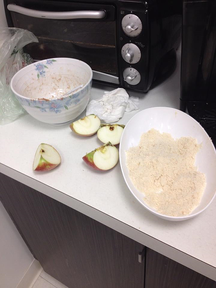 topping:
1/2 cup flour
1/4 cup sugar
3 tablespoons butter, cut into small pieces
1 teaspoon vanilla
Add the apple mix to the cup, fill to the top. Then sprinkle the Topping mix all over the top of the apples. Microwave for about 2 to 2/1 minutes. When you take it out of the microwave, the mixture will settle, because the apples are soft. The more apples the longer it takes. When done cooking - add whipped cream to the top, and BE CAREFUL, it is VERY Hot when it first comes out of the microwave.
6. Chocolate Mug Cake (Eggless)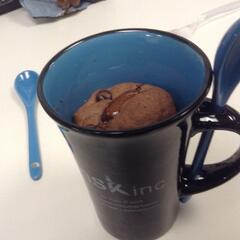 Original Reciple from: Sizzling Veggies
Prep Time: 5 minutes
Cook Time: 80 Seconds
Because this is an eggless recipe, the half full does not apply. There is a not a lot of rising in this cake because there are no eggs, so feel free to fill 3/4's full.
Ingredients:
All purpose flour (unbleached, enriched) -- 2 Tbsp
1/2 tspn of Sugar
2 tspns - Unsweetened Cocoa Powder Or 1 tblspn - Hot Chocolate Mix (if you use Hot Cholate Mix, don't add the sugar)
1/4 tsp Baking Powder
a pinch - Salt
2 Tbsp - Milk
1 Tbsp - Oil vegetable or olive
handful of mini chocolate chips
1 Tbsp of one (Jam, Almond Butter, Caramel Sauce, Nutella, Peanut Butter,Chocolate Covered Banana Chips)
Instructions: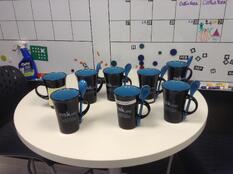 When I told everyone here at NSK that we were making these, and said "if anyone wanted some to bring their NSK Mug to the kitchen," we had 8 takers. Charmy and I had to make two bowls, and figure the changes for eight. We also didn't have the unsweetened cocoa powder and used the Hot Chocolate Mix instead. It came out great with the hot chocolate mix.
In a small bowl add flour, cocoa powder & (Sugar) or Hot Chocolate Mix, baking powder and salt until no lumps remain.
Stir in the milk and oil until smooth, add the chocolate chips.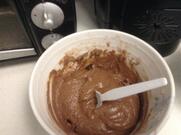 Scrape the combined batter into the NSK Inc mug . Ad the tspn of Jam or other item you are using into the middle of the chocolate mix in the mug and push it down so the batter covers it completely.
Bake in the microwave on high for 80 Seconds. You may need to add or subtract 5-10 seconds depending on your microwave, but don't be tempted to overcook or it will be dry.
For the benefit of all I am adding this additional picture of the common cooks How-Many-Guide that we had to use to convert this one mug recipe to 8 Mugs, we found this great tool on the Huffpost Taste Site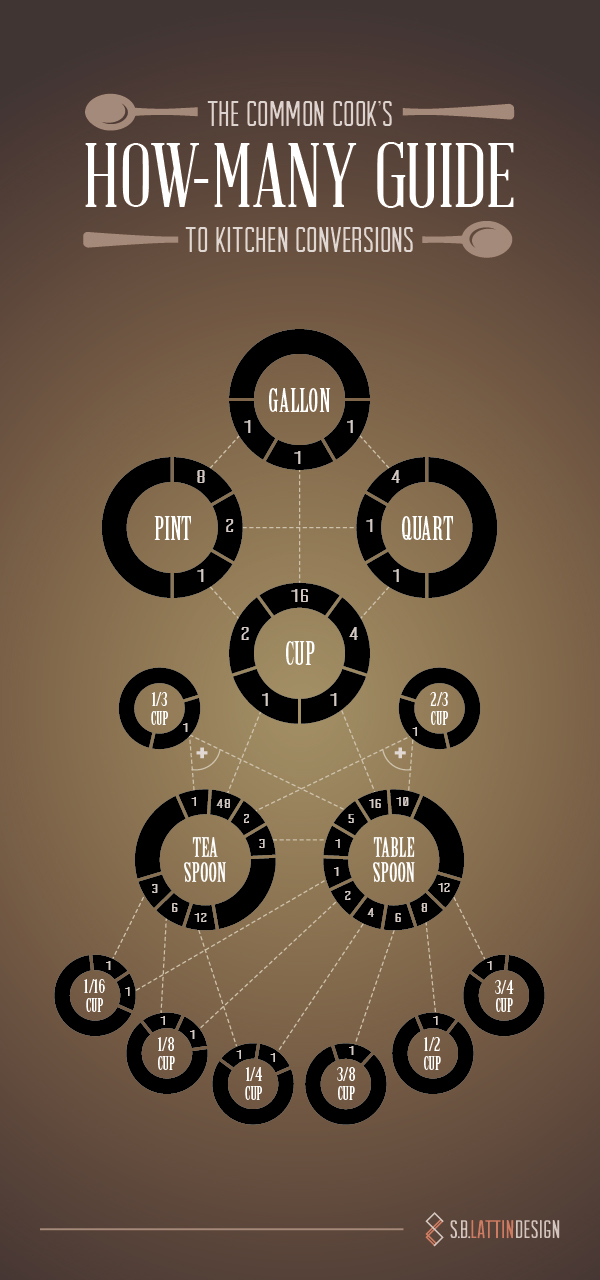 7. Meat Loaf in a Mug Recipe
photo by Taste of Home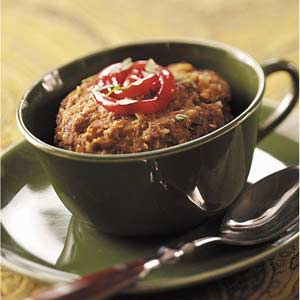 "Here's a quick, delicious single serving of meat loaf," writes Ruby Matt of Garnavillo, Iowa. This clever take on a classic gives you traditional meat loaf flavor with hardly any cleanup and no leftovers!

TOTAL TIME: Prep/Total Time: 15 min. YIELD: 1
Ingredients
2 tablespoons 2% milk
1 tablespoon ketchup
2 tablespoons quick-cooking oats
1 teaspoon onion soup mix
1/4 pound 90% Lean Ground Beef
Directions:
In a small bowl, combine the milk, ketchup, oats and soup mix. Crumble beef over mixture and mix well. Pat into a microwave-safe mug or custard cup coated with cooking spray.
Cover and microwave on high for 3 minutes or until meat is no longer pink and a thermometer reads 160°; drain.
Let stand for 3 minutes. Serve with additional ketchup if desired. Yield: 1 serving.
Editor's Note: This recipe was tested in a 1,100-watt microwave.
8. Gluten-Free Cocoa - Banana Mug Cake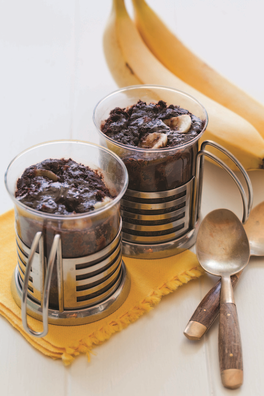 From: BuzzFeed
Makes 2 mug cakes
INGREDIENTS
1 overripe banana
1/4 cup peanut butter (or any nut butter)
1 large egg
2 teaspoons granulated sugar, or alternative sweetener
3 tablespoons unsweetened cocoa powder
1⁄4 cup add-ins of your choice, including chocolate chips, chopped nuts, or dried fruit
PREPARATION
Mash the banana in a large mug with a fork. Add the nut butter and egg and mix thoroughly. Stir in the sugar and cocoa and beat until smooth. Fold in the add-ins. Divide the batter between two mugs. Microwave separately for 1.5 to 2.5 minutes each until risen and firm.
Topping Ideas: Whipped cream, peanut butter whipped cream, chocolate whipped cream, ganache, chocolate sauce, or candied nuts.
9. Coffee Cup Chilaquiles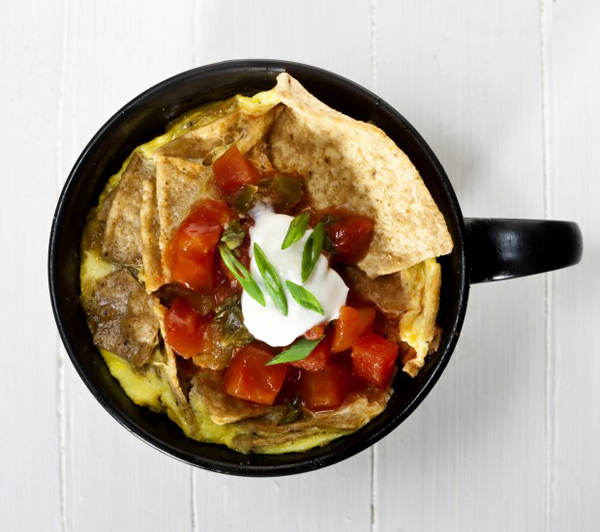 Source: heraldextra.com
Now it's time for a Mexican spin on meals in a mug! If you have some leftover ingredients from taco night around your kitchen, then this is the perfect solution! It can also be a great salty snack for a late night craving. Don't forget that sour cream on top though, it's the best part!
Ingredients:
1 egg
1 tablespoon milk
Salt, pepper
1 tablespoon sharp cheddar cheese
5 tortilla chips
1 tablespoon salsa
Sour cream, queso fresco, chopped green onion
Directions:
Beat egg and milk with a fork in a coffee cup, with salt and pepper to taste. Add cheddar; stir to coat. Break 3 or 4 tortilla chips in small pieces to fit in the cup; stir into the mixture. Add salsa.
Microwave, about 1 minute, 10 seconds. Garnish with a tortilla chip, sour cream, queso fresco and onion.