MPICA Seminar Presentation of MGL 93H 201CMR17.00 at the ICA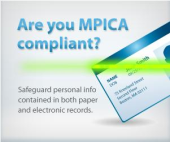 This morning NSK Inc. met with IT and Human Resources Staff from the ICA, The Museum of Science, The Boston Children's Museum, Isabella Stewart Gardner Museum and the New England Genealogical Society to discuss the new Privacy Law that goes into effect in Massachusetts on March 1, 2010 (MGL 93H 201CMR17.00). The meeting was sponsored by and held at the ICA. Ryan Hickey and Timothy Lasonde from NSK Inc showed a Power Point presentation to everyone and explained the new law and what is required by Massachusetts companies to be in compliance by March 1, 2010.
NSK Inc would like to thank the ICA for inviting us to participate in this presentation and would like to make available for all that were present the following links to help them further in coming into compliance with this new regulation.
If anyone has any questions, or if we can help in any way, please do not hesitate to give Cathie Briggette a call at 617-303-0480 X 224.
Below are links to the information that was discussed.
Final Version of MGL 93H 201 CMR 17.00 Filed 10-29-2009
MPICA - The Assessment and What it Includes
Report on the MGL Chapter 93H Notifications
Frequently Ask Questions for 201 CMR 17.00
If you would like a copy of the Powerpoint Presentation that was used during this seminar, please email cathie@nskinc.com