The Holiday Season has finally started, and with Christmas around the corner, it is time to start gearing up for some Christmas shopping. However, buying the right thing for your loved ones is always a challenge, and it is even more so when your special someone is a geek. If the cool idea for a geeky boyfriend, husband, father or brother is what you are looking for, we might have a few suggestions to share with you. Here is a list of 12 new technology gadgets that might become a precious life line for those who need help in selecting the most appropriate Christmas gift.



The world first 3D printing pen
. Born as a combination between a glue gun and a regular ink pen, this pen ejects warm thermoplastic, and it will allow you to create 3D models that will harden in seconds. To buy: $100,00

Rusty's Wired Series. Say goodbye to tangled earphones that take up space in your pocket. Rusty has come up with a hoody with earphones that double as the elastic strings of the hood. You can plug your music device in from one of your side pockets, where you can house your music device. The earphones are machine washable, and consequently waterproof so you can skip the dreadful task of removing and putting them back in. The Rusty clothing line has a lot of selections for men and women at various prices.

Swarovski USB Necklace. Of the many out-of-the-ordinary flash drives, this one gives off a positive, almost classy vibe. The Heart USB Pendant is part of a line of crystal-studded USB drives. This 4GB USB necklace by Swarovski is proof that tech can also be sophisticated and elegant at the same time. To buy: $180.00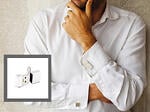 USB Cufflinks. Similar to the USB necklace, these cufflinks give a professional look to an already clean and formal look. Each cufflink carries 2 GB worth of storage, and is also available in gold and gunmetal. To personalize this even further, there is an engraving service where you can put a monogram of up to 8 characters (pick from a range of fonts) on your cufflinks for only $8.00. Finally, a flash drive you can put your name on, at $100.00 a pair.

Felix HoldTight for iPhone 6. At the price of only $15.00, the runner in the family will never need to wonder again what to do with their ID, cash, or earbuds when out on a jog. Decorative bands securely hold these essentials without adding bulk.

Jensen DJ Scratch Mixer. Your music maven will not miss a beat scratching on this portable turntable. They can use music from their iPod or MP3 to practice their skills. Jenson DJ Scratch Mixer's price is $30.00.

Fire HD Kids Edition. Rather than risking your own, gift a tablet that is kid-proof. This option is replaceable for up to two years just in case it happens to go swimming in the tub or it is thrown out the car window. To buy: $ 149.00.

Mushroom LED Lamp. Perfect for the desk, this lamp dims or brightens when you touch it and streams music from any MP3 player. To buy: $43.00.

Wireless Smartphone Photo Printer. Capture and share photos in less than a minute. After downloading a free app, you can connect your smartphone, iPad and iPod Touch, and Android to this wireless printer, which produces clear, high resolution, frame-worthy shots. To buy: $220.00.



Wooden USB Flash Drive. Because even minimalists need memory, here's a clean-lined 2GB bamboo drive with only the most understated of embellishments. Which is a color-blocked tip in cobalt, gold, or teal. Even the invisibly-magnetized cap does its job without any fuss. To buy: $32.00



Nike Hyperdunk+. Athletes always want to improve themselves, and with this pair of Nike Hyperdunk+, basketball players can monitor their speed, jump height and their overall game performance. There are sensors on the shoe that transmit information to your smartphone via bluetooth. You can even record videos of the play, and then watch it with the matching display on screen. The videos and your stats can be shared on social media, or can be used to monitor your progress.

Tile.Tile can become a precious ally that can help you to find your lost items. When you attach Tile to something, like your keys, you are literally linking them to your phone. In fact, Tile casts a Bluetooth signal up to 100 feet, making short work of any haystacks you lose your needles in. And since every phone with Tile helps find your stuff, your search range is potentially limitless. In addition, the app does automatically record the last place your phone saw your Tile. Since you have to retrace your steps, it is good to know where to start walking. When you begin searching for a lost item, your phone tracks the Bluetooth signal strength of your Tile. As you get closer, the app's tracking circle fills in, giving you a clear indication of your progress. To buy: $18.00.
I could have not written this article without the help of the following sources: