The Citi Performing Arts Center in Boston (formerly the Wang Center) has continued enlisting the services of NSK Inc to provide the theater complex with IT solutions. The relationship between the Citi Center and NSK began in the summer of 2008, when the Citi Center approached NSK to upgrade and improve their then outdated IT infrastructure. NSK Inc has been contracted through an agreement with Everon Technology Services, LLC, the Citi Center's IT support group.
According to Ryan Hickey, IT Services Manager at NSK and IT Project Manager of the Citi Center upgrade, the "old network consisted of computers, servers, cabling, network devices and wireless equipment that were either outdated or no longer adequate for the Citi Center's needs."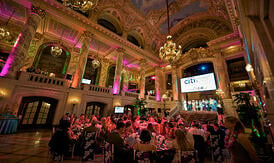 To provide the Citi Center with an updated and secure infrastructure, NSK Inc implemented an eight-phase plan. Over the course of a year, NSK:
Replaced all desktop and laptop computers and installed an Enterprise Level network security appliance.
Designed and installed a new fiber-linked, Gigabit Ethernet Local Area Network (LAN) throughout the Wang Theatre and managed the replacement of existing network wiring with new Cat6 wiring.
Replaced and consolidated servers, reducing the number of servers from 13 to 8. Upgraded the servers from Windows® 2000 to Windows 2003 and from Exchange Server 2000 to 2007.
Redesigned the server room by adding server and cable racks, robust battery-backup devices and adequate air-conditioning.
Installed a Bluesocket® Enterprise Wireless system that covers all areas of the Wang Theatre with more than 40 wireless access points and provides guest wireless access for visitors and production crews.
Facilitated the upgrade of the telephone system to a multi-site VoIP based system.
Assisted with the technical aspects of the installation of the new LCD displays in the Wang Theatre and the LED marquees on the Wang and Shubert Theatres.
Installed touch-screen technology to computer kiosks inside the Wang Theatre.
Michael Szczepkowski, VP and General Manager of the Citi Performing Arts Center, says that "The technological improvements increased the productivity of the Citi Performing Arts Center staff giving them the tools to perform their jobs more efficiently and effectively. The Wang Theatre now provides production crews and artists access to web based resources ranging from technicians looking online for information on equipment to artists connecting online with their fans."

According to Mr. Szczepkowski, "We're always looking for ways to stay current with the technology offerings that fit our organization's needs." He also states that "NSK and Everon have been great partners. They have really helped us improve our use of technology which is crucial in today's world."
For more information about the Citi Performing Arts Center, please visit http://www.citicenter.org.
About Citi Performing Arts Center
Citi Performing Arts Center [formerly The Wang Center for the Performing Arts], which includes both the Wang Theatre and Shubert Theatre, is one of the nation's foremost not-for-profit performing arts institutions. As New England's largest cultural venue, it honors all aspects of the performing arts offering theatre, opera, classical and popular music, one-night engagements, international sporting events and Broadway musicals. Its education/public programming initiative presents City Spotlights and SpectrumBoston. As a 501(c) (3) nonprofit organization located in Boston's historical Theater District, Citi Performing Arts Center offers a diverse mix of educational workshops and community activities through its education department; collaborates with artists and local performing arts organizations, and acts as a champion for the arts in the Greater Boston community by aggressively helping to make the arts an integral part of the community's collective, daily experience. For further information, please go to http://www.citicenter.org.
About Everon
Everon helps companies across the country use technology to more effectively grow, manage and protect their business. Everon provides a variety of IT support services, IT management services, internet marketing services, and professional services backed by a service team that is available 24/7. Everon delivers services nationwide from three service centers in Boston, Denver, and Los Angeles. For more information, contact 1-888-244-1748 or visit Everon online at http://www.everonit.com.
About NSK Inc.
NSK Inc is a leader in information technology consulting, with a focus on IT management for SMB companies. Headquartered in Boston, MA with an additional office in Nashua, NH the company offers a wide array of IT services for business driven information challenges. They provide service and support for small and medium-sized businesses and groups working within large organizations. NSK Inc also creates custom software products for investment banks, equity management organizations, and other specialized industry areas. For more information, please visit www.nskinc.com.
Press Contact
For more information, please contact:
Cathie Briggette
NSK Inc.
(p) +1 617 303-0480
(e) cathie@nskinc.com