It's been a busy year for technology. We've seen a lot of industry changes as well as progression in some key areas from last year. We've also se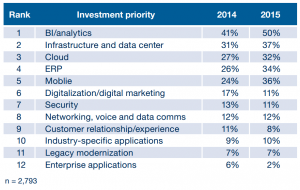 en some failures, or at least delays in emerging technologies. Seems like every year, for the past few at least, it's been all about doing more with less. This has typically made it more and more difficult to get things done for CIO's, CISO's, and ultimately CEO's. In the chart to the right we have what Gartner reported CIO's top initiatives were for 2015, with a 2014 column to illustrate changes in priority from 2014 to 2015. Business Analytics and Business intelligence topped the list, followed by Infrastructure/datacenter, cloud, ERP and Mobile. Keep in mind these are polls on what the intent is for spending, not the actual spend.
What actually happened
Here at Focus we service many different verticals (Healthcare, Financials, Manufacturing, High Tech, and many more). For some reason we didn't see a significant interest in BI/analytics. When I think of BI/analytics I think of technologies like Hadoop and possibly some custom reporting out of a system like Oracle ERP. I think one technology that gets overlooked in this space is Splunk enterprise/lite. We didn't see a big push in this space in 2015. On the contrary with 2 and 3 we saw lots of activity.
Within the infrastructure and datacenter we saw lots of customers refreshing existing vSphere environments. Not so surprisingly the hardware has finally started to outpace the demand in virtual environments. The nice side effect to this is we're not seeing people need to expand their vSphere environments, the refresh of the hardware is gaining 20-30% additional capacity, without the need to purchase additional vSphere licensing.
We are seeing a change in the storage ecosystem. 2015 has brought us advancements in vSAN architecture to allow all flash and hybrid versions, with great scalability. We've also seen huge advancements in the hyperconverged space from Nutanix and Simplivity. We've also seen the all flash storage array market mature with products like EMC XtremIO, Pure Storage and others. Many customers are investing in these technologies in pockets of their environment. We've had several customers utilize XtremIO for VDI deployments.
2015 was also the "year of cloud", or at least looking at cloud. We've had lots of interest in cloud from customers, but there are still a lot of questions around it. Solving the challenges related to running some workloads in the cloud and some on premise has been an issue. Some customers looked at VDI in the cloud but found it cumbersome to get started considering the applications the user's access were still in the datacenter. We've also seen some customer interested in cloud for DR but are coming up short on the process behind the transition from on premise to the cloud in the event of a disaster.
Lastly I want to call out security, I know it's not in the top 5 but I think there's a reason behind this. Up until 2015 VMware hadn't really addressed how to accomplish solid network security within the virtual datacenter. This has significantly changed in 2015 with the release of NSX. NSX is a platform that VMware built to allow 3rd party vendors to plugin to, similar to the way the VMsafe API/vSheild Endpoint worked, but the support for things like IDS and IPS is introduced with NSX. I think that this is going to rise on the list in 2016 and we'll just have to wait and see.
As a consumer of technology what should I lookout for next year
My recommendation to you is going to depend on what's important to your business. I think this year we are going to start to see users and customers start to think outside the box. There are many options, both cloud and on premise, that are available to you. There may be reasons why you do or don't use cloud, but chances are you'll have some percentage of your infrastructure/applications in the cloud.
We also need to start thinking more and more about datacenter security. We are no longer in a time where the perimeter firewall is good enough. After having breaches such as the Target and Home Depot breaches, we need to start thinking about IDS and IPS both at the perimeter and within the datacenter. These technologies give us the visibility to be able to report on malicious traffic, giving us the ability to make a decision on allowing or denying it through policy.
Storage is going through a big change and many people are embracing flash technology to at least enhance the higher end applications like DB, high IO(think VDI), and transactional workloads, these are the most demanding and will yield the best gain from all flash. Don't forget that you can do all flash within things like vSAN or hyperconverged.
Since business intelligence and business analytics was at the top of the list we have to address it. Unfortunately most of the customers I've worked with are struggling with how to do this. I've had several larger customers trying to gain some ground here. We've seen lots of people look at hadoop, but they've determined that hiring somebody to manage it along with a data scientist and developers to help get usable data out of it has been too costly. I suggest looking at Splunk to possibly substitute what is done here. Splunk has the ability to ingest machine data from anywhere (including connecting to hadoop), in any format, and index this for search (think Google for your unstructured machine data). This is an incredibly powerful tool that requires much less expensive skillsets for creating usable BI/BA type information. It's very user friendly.
How can Focus help?
As your trusted advisor, Focus hopes to be a part of the planning and design processes for all of these engagements. Also be on the lookout for new solution offerings related to all of these areas at the beginning of the year. Focus has partnered with a few new Vendors to help address these issues and we have very heavily invested in engineering skillsets to be prepared to help our customers solve these problems. If you have any questions or need help planning for 2016 please contact us to setup a time we can discuss strategy with you. Focus is always willing to be part of the planning and preparation processes.
On behalf of the entire Focus team happy Holidays to you and your family.
Brad Maher|Director of Technology