The Flop of the Floppy Disk
Sony just announced this week that they will discontinue the production of floppy disks as of March, 2011. Higher capacity storage mediums such as CD-Rs, DVD-Rs, and the ultra portable flash-drives that can hold gigabytes of information have led to the medium's downfall.
I have to wonder though; will these other forms of media (for entertainment and data) become obsolete in the future?
Thanks to advances in technology, specifically virtualization, the need for tangible media has been drastically reduced.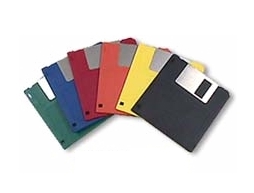 Ten years ago, albums were purchased on compact disc, movies just started coming out on DVD (many of us still bought VHS in the early 2000s), and terms such as "Cloud Computing" and "On-Demand" didn't even register in our vernacular.
Now, consumers can purchase their music digitally, movies can stream to televisions of the internet, and even applications can be run with a simple internet connection.
With the expansion of Cloud Computing Solutions, and more and more companies hopping on the cloud band wagon, is it any wonder that physical media is losing its prominence? The digital revolution has hit the entertainment industry and we are starting to see a trend within IT.
The biggest news of the past couple of weeks was Google's announcement to launch a new and improved work-suite to rival Microsoft Office. Their upgraded Google Docs (vs. Microsoft Word), Google Spreadsheets, (vs. Microsoft Excel), and Google Presentations (vs. Microsoft PowerPoint) are all accessible on-demand via a web connection.
The trend of offering applications through the web versus running from a local machine is gaining speed at an alarming rate to keep up with advances in virtualization technology. With SaaS (Software As A Service) applications, users don't have to download and install programs on their laptops/desktops, and don't have to worry about downloading patches or updates.
For applications that aren't offered in SaaS form, most software companies offer downloadable executable files when you purchase the program via their website. You don't have to purchase CD-ROMs that will become obsolete when the newest release version hits the market.
Within the next few years, IT departments may rely solely on on-demand options rending most forms of physical media unnecessary and irrelevant.