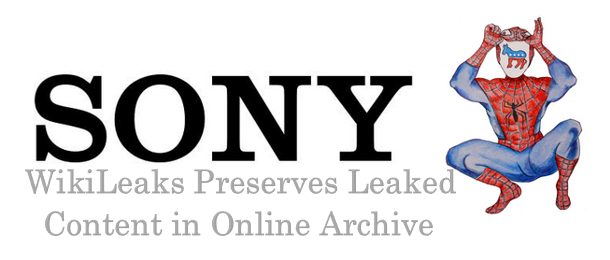 Julian Assange and WikiLeaks have decided to publish an archive of 200,000 confidential Sony emails and documents leaked by a data breach at the end of 2014.
Last November, Sony Pictures Entertainment (SPE) suffered a massive data breach at the hands of a hacker group calling themselves "Guardians of Peace." U.S. intelligence officials suspected the group to be linked to the North Korean government, but North Korea denied responsibility.
The hackers were demanding the cancellation of a film called The Interview, a political comedy where journalists try to assassinate Kim Jong-un. Columbia Pictures, owned by SPE, decided to delay the release date, but opened the film in a limited release later on, despite threats.
Regardless of who was responsible and what their motivations for performing the data breach were, the bottom line is that Sony's data security was lacking. They paid a hefty price for it. The leak revealed over 170,000 company email correspondences, over 2,000 corporate email addresses, and over 30,000 documents.
The leaked content revealed episodes of Sony executives disaparaging various actors, casual racist remarks regarding President Obama and a payment system where female leads make less money than male co-stars and the CEO makes half as much as a movie studio executive.
In the image below, available in the WikiLeaks archive, Sony executive Scott Rudin refers to Angelina Jolie as a "minimally talented spoiled brat."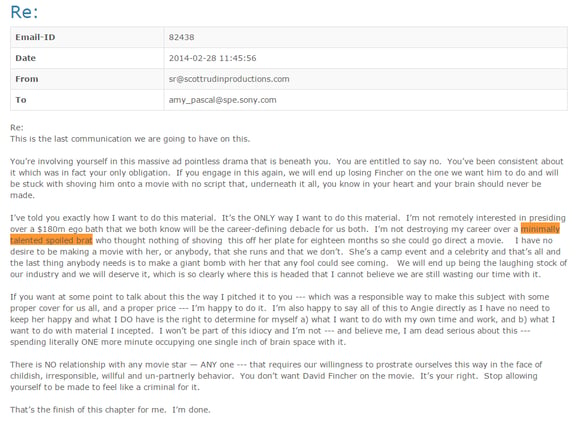 Naturally, Sony experienced a PR disaster.
5 months later, WikiLeaks has rekindled the flame. The original leaked documents were searchable on the internet, but somewhat difficult to track down due to their compressed format. WikiLeaks has placed all the documents into a public archive, with additional built-in search functionalities.
Assange justified the decision with an argument that this information should be public."This archive shows the inner workings of an influential multinational corporation," Assange said. "It is newsworthy and at the center of a geo-political conflict. It belongs in the public domain. WikiLeaks will ensure it stays there."
Sony, of course, did not concur. "We vehemently disagree with WikiLeaks' assertion that this material belongs in the public domain," the company said in a statement. Well, of course they would.
At this point, it doesn't matter whether or not the leaked items should be public. The bottom line is that they are public now. Some 200,000 documents and emails are freely available to browse on the WikiLeaks archive, and the few infamous examples among them remind us all to watch what we say, even in supposedly private emails.
They might end up not-so-private eventually.
Sources: http://www.huffingtonpost.com/2015/04/16/wikileaks-sony-documents_n_7081674.html?utm_hp_ref=technology
http://www.theguardian.com/technology/2014/dec/14/sony-pictures-email-hack-greed-racism-sexism
https://wikileaks.org/sony/emails/emailid/82438
Base Image: https://wikileaks.org/sony/press/