Yammer is essentially a social network that is entirely focused on your business. More specifically, Yammer is a private social network that helps you and your company share information across teams, and organize around projects so you can go further, and much faster. Thanks to its collaboration software, which is completely cloud-based, and its business applications, Yammer allows you to always be connected to coworkers, retrieve precious information, and take part in conversations. Yammer gives everyone a voice, letting you seize opportunities to go beyond your job description and share ideas so that you and your company can move forward, and keep up with whatever comes next.
According to Microsoft officials "Yammer is an integral part of Office 365 and it is being used by more than 500,000 organizations, such as Verizon, E-Bay, and DHL, to transform how they work every day". Yammer can be purchased with the following plans:
1. Yammer Enterprise Standalone, whose fee is $3 per user/month
2. Office 365 For Business, which starts at $8 for per user/month
3. Office 365 For Education, and it includes:
· Office 365 Education E1, which is a free version for both students and the faculty
· Office 365 Education E3, whose fee is $2.50 user/month for student, and $4.50 user/month for faculty.
In order to join your business's Yammer network, applicant user must have a working email address from your company's domain. You can also create external networks to allow non-employees, such as suppliers and customers, to communicate with your company.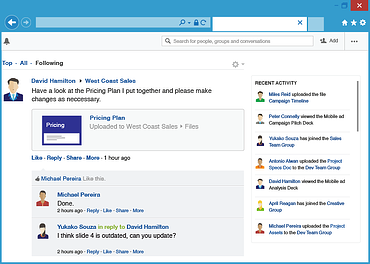 Just as with Facebook, the new posts appear in Yammer's primary screen, which is known as the Newsfeed. Icons indicating private messages and other notifications appear in the upper left-hand corner. Users can also create groups, which represent a helpful tool to isolate conversations that are relevant only to specific internal teams. If a group conversation takes a turn that requires assistance from other employees, you can share it with a specific person via instant message or with another group entirely.
Thanks to the People Directory, it is possible to create automatically a searchable database of every person enrolled in your Yammer, which makes it especially easy to find the contact information for the people in your company. In addition, profiles have Skills listings that are also searchable in the People Directory, and you will never have to struggle to find the right person for the job again.
Sharing files and collaboration among team members are made less complicated, generating about 40 percent less emails. Anyone can in fact attach a file to a post to quickly share information without forcing the recipients to work twice as hard through overly crowded inboxes. You can also upload images and videos to a file repository, where the other Yammerers can download and update them. Groups have their own separate file repositories that expand the main one, and employees can receive automatic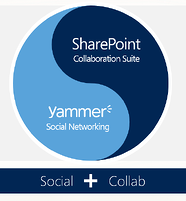 notifications whenever critical files are updated. In addition, teams can also collaboratively create pages in a group setting, and the Admins have the ability to lock them down as official or read-only.
Of course, Yammer also offers apps for iOS, Android, BlackBerry, and Windows Phone.
Yammer was purchased by Microsoft in 2012, and it will become part of Microsoft's Office Division, which is led by its president, Kurt DelBene. Yammer CEO David Sacks will remain at the helm of the Yammer team. Recently, David Sacks declared to Wired that the company is exploring how to integrate Yammer with Office 365, Sharepoint, Dynamics, and Skype. And back in April, Yammer acquired a company called OneDrum, which offers software that adds synchronized file sharing and real time collaborative document editing directly to Microsoft Office.
I could not have written this article without the help of the following sources: