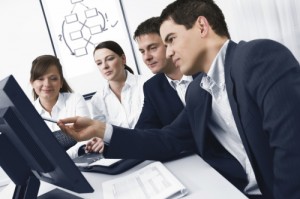 Small to Medium Business 15-24 Employees
Businesses are established to fill the need for a product or service while providing a livelihood for the business owners and their employees. In order to do this, businesses have to ensure they are working at full capacity at all times. Downtime or work performed at reduced levels is time and money wasted.
IT Managed Services for small business networks can help businesses not only quickly repair problems when they occur but also act proactively to spot and treat potential problems before they have an impact on productivity. IT Managed Services can, in short, give a small business the support that a full-fledged IT Department gives to much larger businesses at a fraction of the cost.
IT Managed Services Providers work from a remote location, providing network, desktop, email and backup and recovery support services without adding to the actual number of "employees" on site. The services provided are unobtrusive and in the majority of cases, have no impact on the day-to-day activities of current in-house employees. In fact, they allow employees to focus on their jobs rather than fiddling with computer issues.
Generally when you bring on a IT Managed Services Provider, a consultant will perform an onsite assessment of your company, its workflows and processes and the current state of its supporting technology to determine what services are needed to meet organizational goals. Business owners have a choice between several different levels of service, making it possible for a company with a limited budget to choose a package that best suits their needs.
Benefits of Using NSK Inc's Managed IT Services
Control Costs and Eliminate Unnecessary Expenses

Obtain On-Demand Resources & Expertise

Improve Productivity

Gain an Edge over Competitors

Improve Up-time

Focus your staff and resources on what really matters- your business
Let NSK Inc manage your technology so you can stay focused on your business goals and pursue your vision. Contact NSK Inc today for an assessment of your current IT needs. sales@nskinc.com
NSK Inc's clients are monitored 24x7x365 via our software tools and Operations Center. When any problem or error condition is detected, an alert is immediately generated to our monitoring software portal and remediated remotely by our support technicians. Any critical issue also results in an automatic page to a field services coordinator. The condition is remotely remediated and when the condition is returned to normal, the alert is closed. The idea is to resolve many little issues as they occur before they turn into big problems on the network or the system. If a condition requires onsite support or user intervention, our team will notify you immediately. All support incidents are tracked in our online system accessible to you at any time.