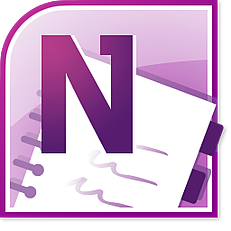 Many of us carry a notebook or notepad around to take notes for business, school, or personal projects. Unfortunately, sometimes finding, and deciphering the information you need might become complicated, mostly when you are trying to share your notes with others. OneNote however may help to make the task less challenging.
In its simplest form, Microsoft OneNote is an electronic version of a paper notebook, and it is designed to function as a note-taking and personal information management (PIM) application for collecting, organizing and sharing digital information. With OneNote, you can write down notes, thoughts, ideas, scribbles, reminders, and all kinds of other information. Unlike the traditional document page format of other programs such as word-processing or spreadsheet programs, OneNote offers a free-form canvas where you can type, write, or draw notes in the form of text, graphics, and images wherever and however you want them.
You can draw, erase, and edit with your finger, stylus, or mouse on any Touch-capable device, such as a Tablet PC or a Windows 8 tablet or slate PC. If you need to share your handwritten notes and care about legibility, OneNote can automatically convert your handwriting to text. Moreover, identifying and authenticating other authors is easier with the integrated identity profiles in OneNote, which allows you to search for notebook changes and revisions by authors' names and view all recent edits when you return to a shared notebook.

OneNote lets you add more space where and when you need it, and you can stay organized by dragging note items into their own sections or even into different notebooks. You can separate and organize your notes by subjects or projects, or keep separate notebooks for different places and interests. By storing text notes, photos, audio and video snippets, handwriting and similar content, Microsoft OneNote collects and organizes the information, making it available for searching as well as sharing with others.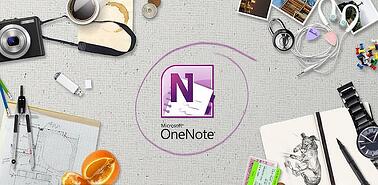 However, OneNote is also a precious tool that can work directly with a rich set of apps. A Few examples are:
- Brother Web Connection, which allows your Brother machine to scan images and upload them to OneNote and OneDrive directly without going through a PC.
- Chegg, so that Students can save their critical homework answers from Chegg Study Q&A to OneNote. From there, you can start organizing your answers by subject, class or assignment and have it all instantly searchable in OneNote.
- Email to OneNote. It captures the things that are important to you while you are on the go by emailing them directly to your notebook. Documents, notes, and itineraries will be put into your OneNote notebook, where you can access them from all of your devices.
- NeatConnect, which transforms paper piles into digital documents and sends them straight to OneNote without the use of a computer.
- OneNote Clipper, which lets you save webpages from your browser into your OneNote notebooks.
- Powerbot for Gmail. It saves important emails, conversations and attachments to OneNote directly from the Gmail interface.
- Sight. It lets you clip articles from ANY iOS apps in one snap. You can clip recipes, travel destinations, news, tips and all your favorite content easily, and with OneNote integration, you can view all your saved articles directly in OneNote.
Microsoft OneNote has been included in the Microsoft Office suite for years but now it is available for free on PC, Mac, Android, iOS, and Windows phone, giving you access to all your data wherever you are and whatever device you're using. There's even a web version, so Chromebook users (and BlackBerry owners) can use OneNote. The software syncs OneNote data between computers and devices through Microsoft's SkyDrive cloud storage service.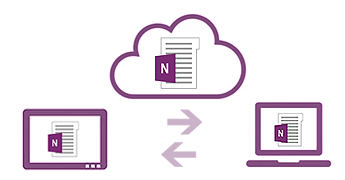 In OneNote, it's easy to save your files to your own OneDrive account or to your organization's site. From there, you can easily view, edit, sync, and share your notes and even work together with family members, colleagues, or classmates on the same notes at the same time.
OneNote automatically saves the information you care about and keeps it in sync across the OneNote apps on all your favorite devices while you work, so you can concentrate on your thoughts and ideas instead of your files. You can use Instant Search to recall anything you've ever created or saved in OneNote. And if you ever need to share a snapshot of your notes with someone who doesn't have OneNote, you can export your files in a variety of file formats.
The current release of Microsoft OneNote is OneNote 2010, although a beta version of OneNote 2013 is available in the Office 2013 preview release. Additionally, OneNote MX, a version designed specifically for the Metro user environment and its features, is currently available as a preview as well.
I could not have written this article without the help of the following sources: