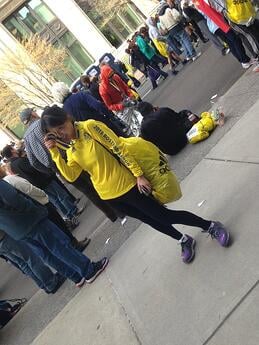 When I started interning here at NSK, I didn't know cloud computing from cumulonimbus. Writing each blog entry took loads of detective work. But for this last entry, I was asked to blog about what I already know, and sometimes it's those blog posts that are the hardest ones to write.
Almost two weeks have passed since Marathon Monday and in its aftermath there is some resolution, thanks to the brilliant work of the law enforcement on April 19. And yet, many of us find we're still trying to figure out where to go from here.
While the world slowly awoke to our city's nightmare on April 15, I felt an overwhelming sadness mixed with anger. I was a "finisher" and out celebrating with friends in Granary Tavern in the Financial District (near NSK's office), almost two miles away from the finish line.
Mind Field
"We were just there" were the words all of us were thinking as we watched the endless cycle of playbacks of the two explosions. Many of the tavern's diners were other finishers with their families. We wore medals around our necks, yellow tech shirts, space blankets were folded on the back of our chairs.
When the news was broadcasted, we had already forgotten how our legs felt like lead only moments ago, how walking down the stairs hurt more than walking up. How hungry we were. How much we were looking forward to drinking an ice cold beer. How we couldn't wait to post photos on Facebook.
Instead we began to remember.
We remembered 12 years ago when our teachers taught us the word terrorism. We remembered our friends were still out there running. We remembered all those spectators, all those people, watching, waiting, looking out for their sweaty runner so they could cheer them on, ring their cowbells, clap, scream at the top of their lungs, "You can do it!"
And they were screaming.
We no longer felt the pain in our legs. Our joy was replaced with sorrow…and rage.
And while all these emotions and thoughts were happening inside, phones kept vibrating on the table because people wanted to know if we were okay. And then we felt guilty because we were okay and there were so many people out there who weren't and we wanted to say, "Don't waste your time on me. Think about them."
And then we asked who? Who did this? We had wanted them to suffer.
That's what ran through my mind as I sat with my friends—my spectators—who comforted me as I made phone calls reassuring everyone I was safe, punching in messages to make sure people were accounted for. I cried through it all.
The Boston Marathon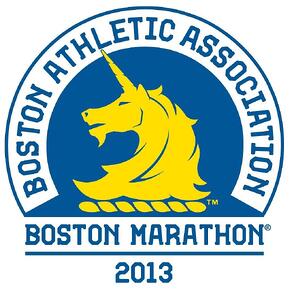 Our marathon is the oldest in the world with a turnout of over 500,000 spectators. That's over 80 percent of the entire population of our city.
Many runners regard the marathon as the ultimate race since a qualifying time is required for registration. For those who don't qualify, they run for charities.
Running through eight townships, you see what this day is all about. From the Wellesley College "scream tunnel," to Red Sox fans reporting scores to runners, to children holding out there hands for high fives—it's like a never-ending homecoming every step of the way.
And you can't forget the volunteers. Wearing their blue and yellow jackets with pride, they hand out Gatorade and water at every mile. No matter how many medals they hang over finishers' heads they always have a smile for each one.
After crossing the finish line and receiving my medal, I had walked through a sea of hobbling runners hugging their families and friends, embracing them in their space blankets. It was an overwhelming scene of affection in a city I love.
Strength
I had felt listless days after Marathon Monday, constantly reading news articles, tweets, posts, blogs, absorbing everything I could to cope. It was another kick in the gut when tragedy struck Texas two days later. Finally, the perpetrator was caught on Friday after hours of a region-wide lockdown. But now what?
First you get angry. Then you want justice. But then you stop and see the incredible perseverance and selflessness amid all the chaos.
The first responders, the runners who continued running to donate blood, the people who offered a place to stay to those who were stranded. The human spirit championed again in the face of terror.
In Boston we are Runners, Fighters, Healers.
On April 15, the people on Boylston cheered. Now we reverse roles and cheer for the spectators, for the heroes, for our city.
Now we continue to heal and help others. We continue rebuilding. We continue to remember. We continue to run.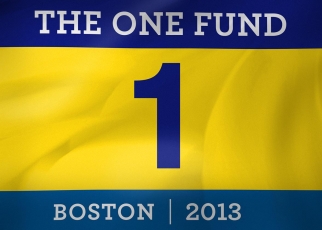 To help marathon victims, donate at onefundboston.org