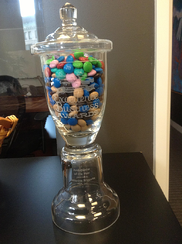 NSK Inc's own Cathie Briggette received the "Excellence in Business, Ambassador of the Year Award" presented Tuesday evening, July 23rd by President Kelly Thompson Clark at the Cambridge Chamber of Commerce's (CCC) Summer Bash Event at the Kendall Square Marriot.
This is a significant and impressive accomplishment since only one coveted award is given each year by the CCC, the second biggest chamber in Massachusetts. And to top that, the Ambassador Committee is the largest CCC committee. 'Way to go Briggette!

The award recipient is determined by a vote of fellow Ambassadors. He or she is a member and Ambassador of the CCC who distinguishes himself or herself as an invaluable asset.

Ambassadors assist with new member recruitment, ensure that existing members are getting the most from their Chamber investment, and serve as mentors for new or prospective members.