Axcient.com has an IT downtime calculator that has some pretty shocking loss calculations. A company like yours could lose over $600,000 a year due to the national average of 2 downtimes a year.
IT outages are frequent and lengthy, and they cause substantial damage to a company's' reputations, staff morale, and customer loyalty.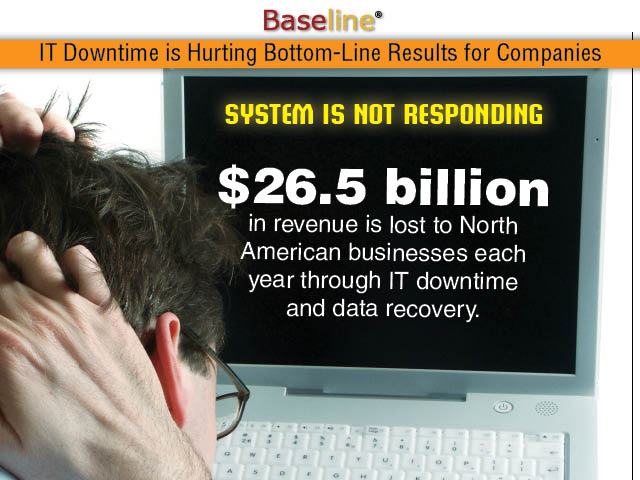 On average, the businesses surveyed said they suffered 14 hours of IT downtime per year. Half of those said IT outages damage their reputation and 18% described the impact on their reputation as "very damaging."
Headlines about IT failures certainly don't help. Northrop Grumman, for example, experienced a public relations nightmare when it had to pay nearly $5 million to the Commonwealth of Virginia for a network outage last summer that lasted a week and affected multiple state agencies.
Despite those costs and risks, it is still surprising that 56% of enterprises in North America and 30% in Europe don't have a formal and comprehensive disaster recovery policy. Yet 87% of businesses indicated that failure to recover data would be damaging to the business and 23% said it would be "disastrous."
See what your company can lose due to downtime issues.
http://www.visualize-roi.com/launch/axcient/downtime/?nav=homepage-banner-cod-160k
NSK can help you
With over 17 years of providing information technology (IT) consultant services, managed IT Services, and solutions to organizations in Boston and the surrounding areas, of various industries, we have developed the capacity to deliver comprehensive, efficient and professional IT support.
Our clients take comfort knowing that their IT systems will always run nearly without interruption. Based on the experience with our clients, we have formulated several essential business IT packages and services integral to every company's success.