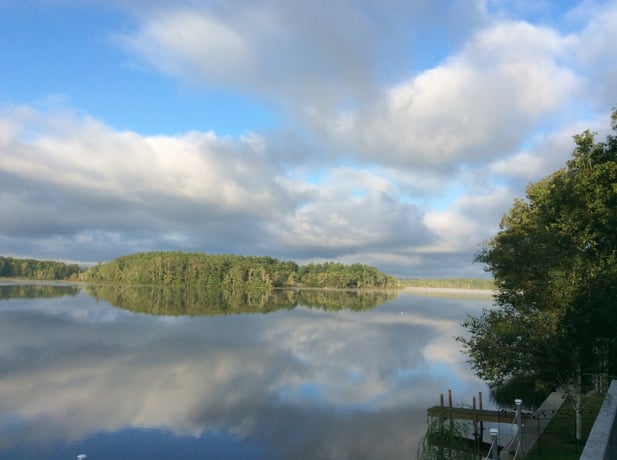 Companies today have a confusing array of choices when it comes to IT services, from public to hybrid to private clouds and all different types of virtual environments. With all these choices, how can you understand if the cloud is for you? This series of articles will try to explain some of the lingo used for cloud services and give you an idea on whether or not you or your company is ready to move to the cloud.
To understand all the cloud lingo, you need to understand what everyone is talking about when discussing the cloud and all it nuances. Here are some terms that are used when discussing the cloud.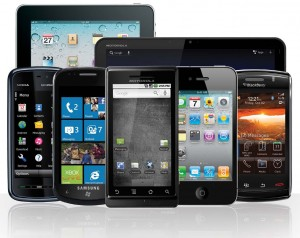 Cloud "Clients" – Clients in this circumstance mean the actual device that you are using to get to the cloud. They include: Web browsers, mobile applications, mobile devices, (iPhone, iPad, iTouch, Chromebooks, etc.) thin clients (aka computers or laptops), terminals and Emulators [hardware or software or both that duplicate the functions of one computer system (guest) into another computer system (host)].
The cloud computing definitions made known by the National Institute of Standards and Technology (NIST) categorizes cloud services as Software-as-a-Service (SaaS), Platform-as-a-Service (PaaS) and Infrastructure-as-a-Service (IaaS).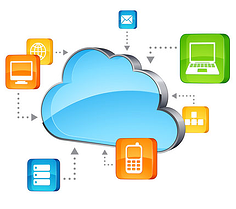 All "as-a-Service" offerings are characterized as providing low initial cost, incremental cost as your service usage grows, self-service, best practices built-in, resource sharing, automated deployment, management services, lifecycle management, and reuse.
SaaS – Software as a Service –– A software delivery model in which software and associated data are centrally located. It is a software licensing and delivery model in which "Software" is licensed on a subscription basis and is centrally hosted. It is sometimes referred to as "on-demand software". SaaS is typically accessed via a web browser from pretty much any device.
Vendors: There are a bazillion (a very large exaggerated number) out there, include most software companies that used to develope a client based model software (software that had to be physically installed on the users' computer). It includes almost all CRM Software–
EquityTouch, Salesforce, Act, etc.

Microsoft has gotten into the SaaS game with Office 365.

All the new applications that you use on your iPad, iPhone, iTouch, Nexus devices, etc. that need internet service to use… those applications are SaaS too.
Advantages: A software company or developer, no longer has to have the physical "client" to install the original software or updates as they become available.
PaaS – Platforms as a Service – It is a platform for cloud computing. PaaS is a computing platform that allows organizations the ability to create software using tools and or libraries from a provider. There are various types of PaaS vendors; however, all offer application hosting and a deployment environment, along with various integrated services. The services usually offer varying levels of scalability and maintenance. They may also include facilities for application design, application development, testing and deployment as well as services such as team collaboration, web service integration , database integration, security, scalability, storage, persistence, state management, application versioning, application instrumentation and developer community facilitation.
Vendors: IBM, Oracle, VMware and Red Hat
Advantages: See the top ten HERE
IaaS – Infrastructure as a Service – a pool of cloud based computer resources (processor, memory, disk) provided as managed or unmanaged resources. It is one of the three fundamental service models of cloud computing alongside PaaS and SaaS. As with all cloud computing services it provides access to computing resources in a virtual environment. In the case of IaaS the computing resource provided is specifically that of virtualized hardware, in other words, computing infrastructure. It is considered a virtual server space, network connections, bandwidth, IP addresses and load balancers. Physically, the pool of hardware resource is pulled from a multitude of servers and networks usually distributed across numerous data centers, all of which the cloud provider is responsible for maintaining. The client, on the other hand is given access to the virtualize components in order to build their own IT platforms.
Advantages. The ability to create cost effective and easily scalable IT solutions where the complexities and expenses of managing the underlying hardware are "outsourced" to the cloud provider. If the scale of a business customer's operations fluctuate, or they are looking to expand, they can tap into the cloud resource as and when they need it rather than purchase, install and integrate the hardware themselves.
Advantages: Easily grow your companies infrastructure.
Disadvantages: Learning Curve, or make sure to talk to a Cloud Solution Provider who can easily work with you and your company in creating this cloud environment.
DaaS – Desktops as a Service – Not yet part of the Cloud Services noted by the NIST. Typically the customer's personal data is copied from the regular desktop to a virtual desktop in the cloud. The data is accessed through a web page. Looks and feels as if you are working on your old desktop. Works in conjunction with the IaaS model.
Advantages: good for a small or mid-sized business that wants to provide their employees with the advantages of a virtual desktop infrastructure. These companies also find the deploying software and updates to be cost-prohibitive in terms of budgeting and staffing. Also great for staff that is located in many locations across the US or Globe. DaaS makes it very easy to update software and services your company is using. Great Security, if an employee leaves the company, all that needs to be reset is the login and password for the URL page.
The next Article in the series will discuss "So What does it REALLY take to Migrate to the Cloud?"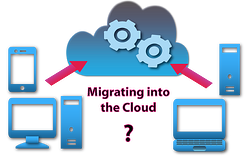 Please feel free to leave comments or ask additional questions about the Cloud Lingo.
I couldn't have written this article without help from the following websites:
http://www.atomrain.com/it/business/migrating-cloud
1st Cloud Picture by: Gayle Martin @HubPen