With so many options on the market today for mobile internet capabilities, I have to wonder if all the hubbub is actually worth the investment.
The average internet user probably has a high-speed internet connection at home (most likely cable or DSL) as well as internet connectivity at their workplace. Many of these users also have a data plan on their cell phones that allow them access to the internet while on the go.
So if you have internet at home, internet at work, and email and mobile browsing on the go; then why do you have to spend more money to have a wireless internet connection?
I compared three of the major players based on price and performance.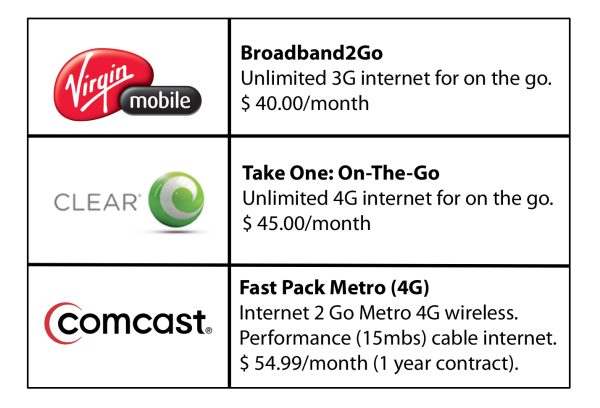 Virgin Mobile's Broadband2Go plan allows for unlimited access to the internet at 3G speeds (the same data rate as most major smartphones) for $ 40 per month without a contract.
Clear, a new internet service provider gives users unlimited 4G access (4x faster than 3G) for $ 45 per month with or without a contract. With the contract you can lease a USB access point for $5.00 a month, whereas with the month to month, you have to buy the device (about $ 100).
Then there's Comcast. The largest home internet provider in the U.S., Comcast is now offering a hybrid bundle of high-speed cable internet at home and 4G wireless service. The Fast Pack Metro bundle costs $ 54.99 for a year, and then regular rates apply ($84.99). Just cable high-speed internet costs $ 44.99/month.
Sure, the prices are reasonable – but do we actually need these services? Most public places now offer free Wi-Fi. You can easily step into a coffee shop, order a cup of Joe, and surf the web (you can even do that at McDonalds).
Combine that with the fact that smartphone data plans average $30 a month, you will always have some sort of connection to the internet. The amount of time spent between home and work doesn't seem to deem a continual internet connection if you can still answer your emails from your BlackBerry.
Why spend extra money for a luxury that you don't even need?