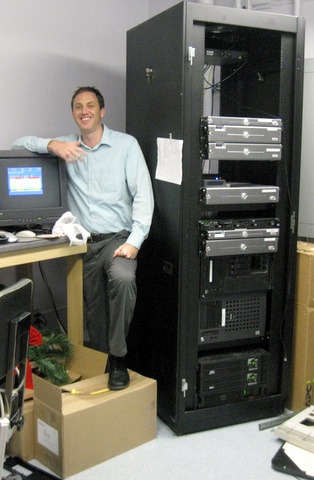 Ryan's position as an IT manager at NSK Inc. has him serving two roles: first, as an account manager for several managed services clients, and, second, as the manager of the Projects Department. The Projects Department, which is new to NSK this year, serves as a separate branch of the company where all IT projects are managed and performed. Typical projects include server replacements, firewall installations, remote office setups, enterprise wireless installations, client moves, and any other larger-scale IT projects.
Ryan frequently finds himself being called on to provide solutions to client's IT problems and challenges. Recently, Ryan and the NSK projects team replaced several clients' outdated and underperforming Wifi systems with new Bluesocket ® Enterprise Wireless systems that provide a very fast, scalable and secure wireless solution for medium to large size deployments.
When not in the office, Ryan likes to unplug from technology and tries not to spend too much time on his computer. Instead, he focuses his attention on his wife and three month old daughter. He also likes to travel and meet interesting people. "My wife is from Turkey so I travel there a quite a bit. I'm always working on my Turkish so that I can better understand the culture and make my future visits more enjoyable," said Ryan. In addition to travel, Ryan also loves music, especially indie/alternative rock. His favorite band is The Strokes.