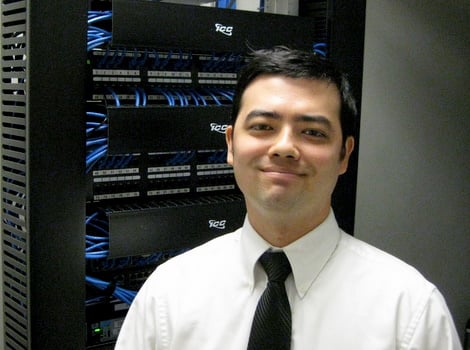 Tim's role as an IT consultant at NSK differs from other IT Associates here in that instead of managing IT services at certain client sites, Tim designs and implements entire IT projects. These projects involve long-term planning and collaboration with vendors, clients, and other resources. Tim's job revolves around his grasp of IT project management skills. When clients ask for work to be done, Tim organizes the efforts to get the project going. He is responsible for writing the scope of work, figuring out what labor and parts are needed, and determining vendors and pricing.
Recently, Tim was tasked with migrating a Windows domain from a small business server to a newer and more robust platform. "Back in the 90s Microsoft came out with a small business suite that was an all inclusive business solution. However, if a business grew there was no easy way to expand the Microsoft infrastructure. Therefore, we now have to migrate the contents of an entire network to a new platform. This has to be done with extreme caution to make sure nothing is lost. I had to plan the project out thoroughly and make sure everything went smoothly," said Tim.
Tim has been interested in computers since he was a teenager. He started his own consulting firm, as well as serving other firms as an IT consultant for the military, government and private sector. "I love the challenge of figuring out what makes things tick," said Tim.
After traveling all over the country for work, Tim moved to Boston from Hawaii two years ago. When not spending time with family and friends, Tim enjoys pushing technologies to new limits, tinkering with computers, networks, cars, and other devices.