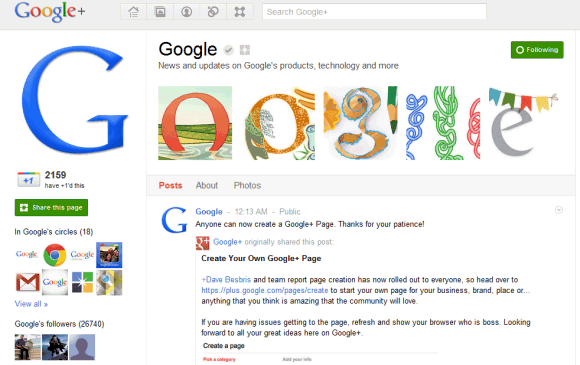 Google+ started out with a bang, boasting 25 million users before the social network was even open to the public. Now, after establishing itself as a true player in the social networking realm, and with 45 to 50 million users to boot, Google+ is opening up its doors to businesses. Called Google+ Pages, the profiles are similar to the Facebook Page platform, except that Google+ Pages will be integrated into Google search results. Additionally, page owners can manage their followers using "circles," which allows them to target content such as updates, photos, and videos to certain demographic groups. So how do you create a Google+ brand profile?
Sign into your personal or work-related Google account and go to http://www.google.com/+/business/.
Here, Google lets you select which category your business fits into. Your options are:
Local Business or Place (examples: hotels, restaurants, places, stores, service, etc.)
Product or Brand (example: apparel, cars, electronics, financial services, etc.)
Company, Institution or Organization (example: companies, institutions, organizations, non-profits, etc.)
Arts, Entertainment or Sports (example: films, TV, music, books, sports, shows, etc.)
Other—if your business does not fit into any other category
The next step is to add your business name, website, and a more specific business category. You can also restrict your profile viewership to those over 18, or over 21. Before you go on to the next step, don't forget to agree to the terms!
Next it's time to describe your business and add a photo. Beware that Google+ only allows 10 words to describe your business so get creative. Have more to say? Don't worry. These are just the profile basics, and you can enter more descriptive information later.
The final step allows you to share your new profile with your current Google+ connections. Note that this is posted from your personal account. Once you click finish your Google+ Page will be complete!
Now you can start a conversation (or start one with us), build circles, and post content. Enjoy!