Are you extremly sad to learn that you missed the cloud computing lunch and learn hosted by NSK Inc. in October? If so, you're in luck because on December 7th, 2011 at 11:30AM NSK Inc., in conjunction with Axcient and the Boston Business Journal, will be presenting another free lunch and learn that will teach the basics of cloud computing solutions.
In a nutshell, cloud computing refers to a new delivery mode for IT services, that allows computation, data access, and data storage without a physical location on a tangible server. Basically, all of your information is stored "in the cloud" instead of a computer hard drive. This is useful for data backup, data recovery, and to quickly merge data between various devices.
To learn more about how you can connect your company to the cloud and revolutionize the way your business gets done simply sign up for NSK's lunch and learn event. The future of cloud computing is just a lunch away.
Lunch & Learn Itinerary: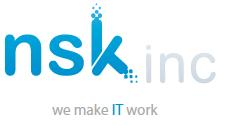 Please join us on:
Wednesday, December 7th, 2011
11:30 AM - 1:30 PM
@ NSK, Inc.
2 Liberty Square, 7th Floor (87 Kilby Street)
Boston, MA 02109
What you will learn:
Where the industry is going in terms of cloud computing
Some of the latest product trends to address backup and restoration, business continuity and disaster recovery
How to reduce cost and overhead by using cloud computing
~~~~~~~~~~~~~~~~~~~~~~~~~~~~~~~~~~~~~~~~~~~~~~~~
Boston Business Journal will do a short Smart Reader Seminar from 11:30AM - 11:50AM
Shelby Baker from the Boston Business Journal will speak on how to use the Boston Business Journal as a business development and networking tool. How to read a business publication in a "smart" way to expand personal connections. You will discover how to turn up sales leads and build relationships with leading industries and top executives. All attendees will receive a 4 Week Free Trial Subscription to the BBJ and a copy of the current issue.
Axcient - Will do the seminar on Cloud Computing 12:00PM - 1:00 PM
Nicole Dirksen will discuss the cloud revolution. The different options that your company has for entering the cloud, and how it will help your business move forward.
NSK Inc will have a question and answer session 1:00PM - 1:30 PM.
Tim Lasonde will share success stories and answer questions regarding the cloud computing and how you can connect your business to the cloud. NSK Inc will also be giving away free admission tickets to the Top 100 Women's Breakfast Event in December.