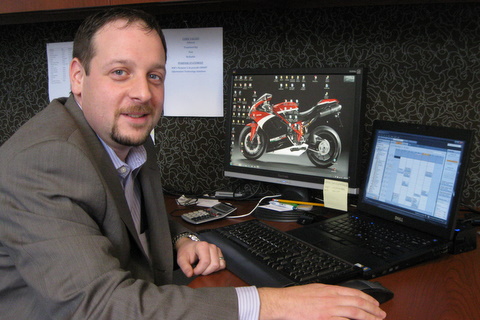 Tim Lasonde is a jack of all trades at NSK. Since starting at the company as an IT Associate in 2001, Tim has held almost every job title, eventually becoming President in 2009. He truly understands the inner workings of all of the departments and knows exactly how to make the entire NSK operation run smoothly.
A Methuen, MA resident his entire life, Tim graduated from the University of Massachusetts with a Bachelor of Science in biology. After graduation, he took a job in a laboratory, eventually taking over the IT Director's position when he left. When the lab moved to California, Tim decided to find a job in the Boston IT scene, ultimately landing at NSK.
Tim's first task at NSK revolved solely around updating Great Plains Dynamics Servers. After starting off working with some smaller clients, Tim began delving more into his role as IT Associate, performing regular computer maintenance and referring /acquiring clients, which gradually helped grow his role in the company. Eventually, Tim became NSK's Chief Technologist, managing the day-to-day operations of the IT department.
"After some time as NSK's Chief Technologist, Robert and Nancy [Keddy]asked me to become a partner in the company. I was excited about the opportunity to grow NSK and to increase our client base. After Robert left to start his own business, I became President of NSK. My priorities shifted from technical work to running the overall operation," said Tim.
A typical day for Tim is anything but typical, as his schedule frequently varies. When not dealing with major client issues or attending sales meetings or networking events, Tim checks in with all of NSK's staff to make sure that goals are being met. He determines sales forecasts, creates performance reports, and is constantly on the lookout for new business. He even offers pro bono services to start-up companies, and volunteers his time at various incubators in MA.
"Every day is a challenge," said Tim. "I am always dealing with issues such as how to get more clients, deciding what services we should begin or stop providing, and choosing vendors that are suitable to our client's needs. One of the hardest aspects of the job is to keep up with the ever-changing technology industry. In order to do so I am constantly reading articles, magazine, and LinkedIn message boards. There is actually a variety of really great CEO groups out there."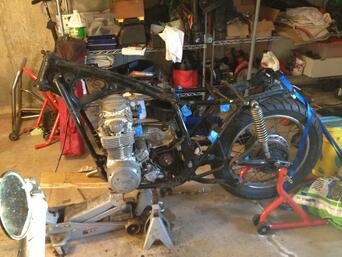 It is no wonder Tim excels at NSK, as he has been mechanically-inclined since he began building and fixing cars in high school. His love for problem-solving continued into adulthood; in fact, he is currently rebuilding a Honda CB550 into a Café Racer after completely gutting it. During the summer he frequently races his Ducati during Track days at the New Hampshire Motor Speedway. In addition to building and riding motorcycles, Tim is interested in clean technology and alternative energy. Not only did he implement a recycling program at NSK, but Tim composts and uses efficient lighting in his own home. He also hopes to design and install solar panels sometime next year.
When not commuting to Boston for his gig at NSK, Tim enjoys spending time with his wife and three children. This winter he plans on teaching two of his kids how to ski. Like any other Boston-native, Tim is a big Red Sox and Patriots fan. He owns a signed Tom Brady and 2010 Bruins jersey.