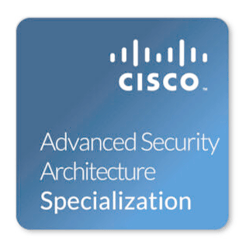 Boston, MA., November 30, 2021 - Focus Technology Solutions announced they have received the Cisco Advanced Security Architecture Specialization in the USA.
As cybersecurity grows increasingly more critical in building organization's infrastructure it also becomes more difficult navigating the complexity of proper protection. Focus Technology assists in that daunting task of not only strategizing and architecting security infrastructure, but also implementing and managing processes.
By meeting Cisco's requirements of sophisticated, value-add, and in-depth capabilities, Focus is proud to leverage their Advanced Specialization for their clients. See how Focus' Security Offering can help your organization.
Benefits of Advanced Security Architecture Specialization:
Expands your organization's capabilities with an extended toolbox of security solutions

Further your organization's expertise with on-hand training and resources

Ability to leverage Cisco's security programs and special offerings
Focus Technology can help you ensure that your IT environment is secure, and your data is safe. Please feel free to reach out to Joe Eccleston, Senior Dir. of Marketing JEccleston@focustsi.com to discuss.