2021 was another exceptional year for our company. After a successful business transformation journey, we continue to experience record revenue growth across our four pillars of excellence: Managed Services, Cybersecurity, Data & Analytics, and Data Center/Cloud Services. (See below graphic for our growth stats)
During 2021, the IT industry was a year of change across our pillars, not only for Focus Tech, but for the industry. Particularly, managed services and cybersecurity services were the largest areas of growth for Focus Tech, but also for these critical services across the market. The pandemic continued to make it difficult for businesses as they navigated their way through their remote workforce challenges, their ability to attract and retain top IT engineering talent as they battled to keep their IT assets secure in the escalating world of cyber-attacks.
These challenges drove more customers to look for skilled and innovative managed service providers that could fill the labor shortage void and managed their cybersecurity posture to prevent catastrophic results of a ransomware attack. Through our incident response and incident remediation services, we helped new clients steer through disruptive ransomware attacks that brought their business operations to a halt. After bringing these businesses back online, we enhanced their environments through digital transformation. We helped them erase their technology debt that was built up over time, resulting in ongoing managed services solutions to prevent these incidents from taking place again while managing their new IT assets. Our experience resolving these incidents leaves us urging companies to increase their cyber security measures. Ransomware attacks surged 148% to 700 million attacks in 2021, the worst year ever recorded.
While we migrated companies, (both to and from the cloud), our on prem and hybrid data center solutions continued to grow at a record pace. Companies continue to see the benefit of data transformation and the ability to capture competitive insights from their data through data analytics, and real time reporting leading to data driven business decisions.
The efforts in the IT consultancy industry have shifted to solving many of these issues, and to meeting the demand for highly skilled managed services that can delver a robust security offering, data center and digital transformation services, as well as data analytics to provide a competitive advantage for businesses using their data.
In this 2021 snapshot, we underscore our most meaningful wins our company experienced in 2021. Thank you for another successful year of record growth to our incredible team of talented individuals that make up Team Focus and a special thank you to over 400 customers that rely on Focus Tech and trust us with their critical IT business needs.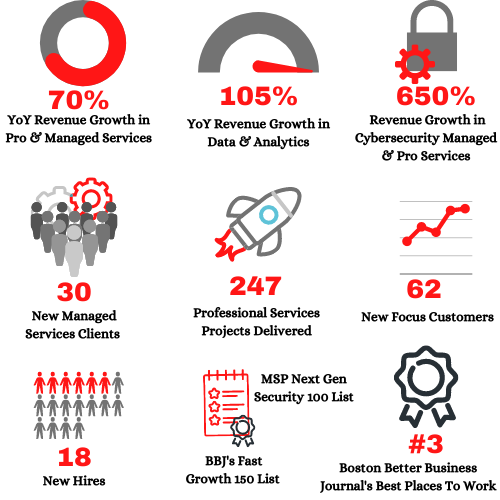 Thank you to our customers, our partners, and our high-performance team for an outstanding year.
Sincerely,
Doug Alexander