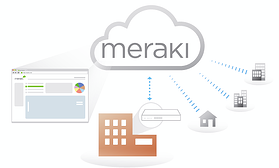 Meraki (may-rah-kee) is a Greek word that means doing something with passion and soul. This is the core principle behind the networking corporation formed in 2006 by MIT PhD students Sanjit Biswas, John Bicket and Hans Robertson. Meraki was recently purchased by Cisco for around $1.2 billion in cash. The company initially focused its attention on consumers and building municipal Wi-Fi networks, including one in San Francisco. When that proved to be a false start, Meraki shifted gears and started focusing on hotels in emerging markets, apartment complexes and eventually on the corporate market.
Unlike other vendors who sell network products with different management systems, Cisco Meraki's products are centrally managed through the cloud, which is what makes them so incredibly advantageous. Because of this, Meraki hardware components can be distributed with very little management. As a result, Meraki appeals to midmarket customers because they do not need to deploy more IT staff to build out their networks.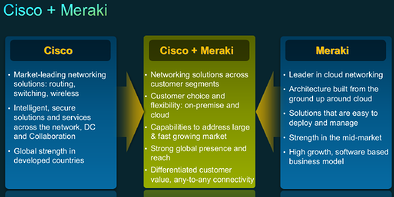 According to Cisco Meraki's website, "Cisco Meraki cloud-managed edge and branch networking solutions simplify enterprise-class networks. Wireless switches, network switches, access points and security and Mobile Device Management are all centrally managed from the cloud. This way, Meraki gives network administrators visibility and control, without the cost and complexity of traditional architectures". Meraki' s products are globally scalable, powerful, easy to manage and are all managed through one network administrator's dashboard.
NSK's project team is now using the cloud managed product family including wireless LAN, Ethernet switches, and security appliances in new setups for our client's network infrastructures. The NSK Project team loves the Cisco Meraki Systems Manager because it provides over-the-air centralized management, diagnostics, and monitoring for the devices managed by NSK Inc. Meraki brings the benefits of the cloud to edge and branch networks, delivering easy-to-manage wireless, switching, and security solutions.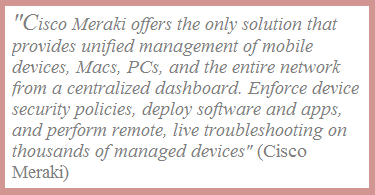 These solutions are managed centrally through Meraki's Cloud Dashboard, and when an NSK administrator logs onto the Meraki dashboard, they have a central snapshot of what is happening on the networks that they manage.
Meraki also offers a variety of security features for their products. For instance, Meraki lets NSK perform basic packet captures directly from the cloud. We no longer need any special software. We simply hit the capture button and select the AP we want to capture from regardless of the geographical location of the office or AP.
I could not have written this article without the help of the following sources: