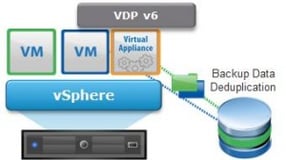 With the release of vSphere 6.0, VMware also made the announcement of the latest iteration of vSphere Data Protection 6.0. Unlike previous iterations there are no longer two version of vSphere Data Protection, now VDP and VDP Advanced are rolled into one and are included as part of vSphere 6.0 Essential Plus Kit. VMware could have stopped there, but instead added support for Microsoft SQL Server, Exchange, and SharePoint. They have even included EMC Data Domain integration in order to take of advantage of Data Domain Boost capabilities. What does this mean to the world of backups? It means there is a new player in town who is not only hitting for average but hitting with power!
Making the switch and is it right for me
Ok, now for the gritty details of what is and what makes up vSphere Data Protection (VDP) and why you should consider switching backup applications. For starters, if your organization uses virtualization, which most do, and if your virtualization environment is powered by VMware vSphere, then chances are that all you need to do is upgrade your environment to vSphere 6.
Now it's time to get technical! For those of you reading this right now, you are probably thinking, this is great and all, but I haven't virtualized my core applications such as Microsoft SQL Server, Exchange, and SharePoint. This is not a problem with VDP 6.0 as VMware will support both virtual and physical SQL, Exchange, and SharePoint servers. The included agents provide application consistent backups and recovery including the ability to truncate logs, backup DAGs, and SQL Server clusters.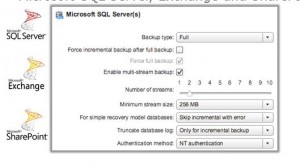 Alright, now let's tackle offsite storage of backup data, backup job replication, and the ever pesky tape backup. When it comes to protecting your backups VDP 6.0 has you covered. If it's options you want then its options you shall have. Some of the supported replication methods are as follows: VDP to VDP, VDP to Avamar Grid (Hosted Solution in the Cloud), VDP to Avamar Data Store (On Site), VDP to Data Domain, and lastly (not sure why you would anymore) VDP to Tape.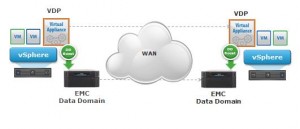 Adding a Data Domain or an Avamar Data Store as your storage target to your VDP environment opens up a plethora of opportunities and features. For starters, VDP 6.0 comes with an 8TB de-duplicated SAN storage limit, but this limit can be eliminated by storing your backup data on an EMC Data Domain or Avamar Data Store. In addition, because VDP uses EMC Avamar technology, it's replication is extremely efficient which enables VDP to replicate across WAN. Just like EMC Avamar only unique data is transmitted from source to target reducing network bandwidth drastically.
Closing Arguments
In the world of backups you have many options; some have been around since the late 1990's while others have been around for just a few short years. I believe VDP 6.0 is uniquely positioned because it was born in the age of virtualization and in my opinion with each and every update they take a step in the right direction. The latest iteration takes the bull by the horns. Support for physical and virtual Microsoft SQL Server, Exchange, and SharePoint, Data Domain integration, DDBoost Integration, Avamar De-duplication, Avamar replication, and lastly the pesky tape out support.
-Christian Miller |Senior Engineer