Here comes.... There goes Joaquin
Hurrican Preparedness for your Business - Computer Helpful Hints Be Ready!
We all know that there will be technology problems during aany big storm, but exactly what will happen, no one ever really knows. What we do know is that NSK will be open to protect the data systems of our client's computers!. We are fully aware of the possible effects that the storm can have on the companies whose IT we Manage. And our HelpDesk Rock Stars will be ready, because they have done this before!
From the Website of the National Hurrican Center and the National Weather Service:
Two keys to weather safety are to prepare for the risks and to act on those preparations when alerted by emergency officials. These are essential pieces to the Weather-Ready Nation.
Refer to the Federal Emergency Management Agency's (FEMA) Ready.gov/hurricanes for comprehensive information on hurricane preparedness at home and in your community.
Some highlights on how to prepare and take action are available below:
FORM MORE INFORMATION FROM THE NATIONAL HURRICAN CENTER GO HERE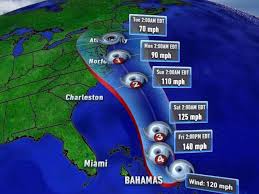 Image from abcnews.go.com