EMC World 2016 had a wealth of announcements to make last week. I wanted to highlight what I found to be most important for Focus customers. Number one on my list was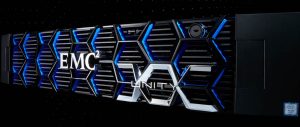 the release of the Unity Family of mid-range storage arrays. Unity will be the replacement for the VNXe and VNX, except for the VNX7800 and 8000 for now. The message is that it will be Simple, Modern, Flexible, and Affordable.
What is new with Unity?
This is not an upgrade of the Clariion/Celerra/VNX line, but a completely new platform built from the bottom up and based in Linux. It is also completely unified. Instead of a VNX Unified with Storage Processors, Data Movers, and Control Stations, everything runs on the Storage Processors. This means that the Unified array only needs 2U of rack space in the base configuration. Some of the major features and enhancements are below.
All software is now included so there are no more bundles to purchase to simplify ordering.
Completely new UI based on HTML5, so no more Java!
Available as All-Flash or Hybrid. The All-Flash array will have 3.2TB SSD with 8.6 and 15TB drives coming by the end of the year. This means that 400TB of SSD capacity will be available in 2U of rack space!
Supports FC or iSCSI block LUNs, CIFS and NFS for File, and full support for VMware vVOLs.
The file system is completely new and maximum size has increased from 16TB to 64TB. This is not even the maximum limit and this size will increase in the future. It also supports file system shrinking.
New integrated snapshots and replication. This is completely integrated and uses more efficient redirected writes as opposed to copy on first write as before. It also uses free pool space for these operations so there is no longer a need to use reserved LUNs.
There is a virtual edition available called the Unity VSA. There is a community supported 4TB version available for free download. You can also purchase fully supported version with higher capacities. It has all of the capabilities of the hardware arrays and can be used for remote offices, test/dev, or even as a replication target.
Wrap up
This is a very exciting product release. The User Interface is completely modernized and the form factor is optimized with the true Unified platform. This is a great evolution for the EMC mid-range storage line and will be a great fit for many different applications due to the extreme flexibility.
Frank Medeiros | Senior Systems Engineer