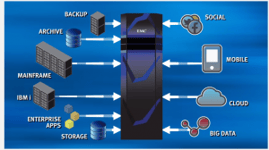 EMC World 2016 has come and gone and with it came new and exciting announcements surrounding the world's most trusted protection storage. Now starting with Data Domain OS version 6 customers will be able to utilize natively what's being called Data Domain Cloud Tier as well as formally introducing the latest member of the Data Domain family, DD VE aka Data Domain Virtual Edition. The message here is pretty straightforward; it's Simple, Efficient, and Open!
What is new with Data Domain OS v6?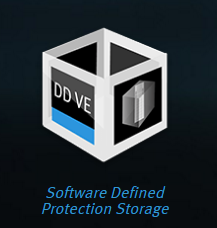 Starting with Data Domain OS v6 and the DD4200 and above customers will be able to utilize cloud based backup for their longer term retention storage. Customers will be able to protect up to 51 petabytes of storage while utilizing local active tiers for shorter term retention backups. Once again EMC has gone above and beyond my expectation with all the features surrounding cloud tiering and DD V;
Cloud Tier features

Native Tiering

simple management interface within Data Domain enterprise manager
No separate cloud getaway or virtual appliance required

Scalable

Protect up to 51 petabytes of logical capacity to the cloud
Increase overall Data Domain capacity by up to 3x

Efficient

All data sent to the cloud will be sent in de-duplicated format!
File level recall directly from the cloud
Only unique data is retrieved during restores

Secure

Data Encryption and Data Domain retention lock
Secure file locking
Data encrypted in flight or at rest
Can encrypt local tier, cloud tier, or both

Open

Cloud tiering available with any Cloud provider
Supported on both physical and virtual edition Data Domain
Any Backup Application compatible with Data Domain Boost protocols
What is new with Data Domain VE?
Data Domain Virtual Edition will give customers to flexibility to use hardware of choice with the ability to use DDBoost, Encryption, and replication. DD VE will also run DD OS version 6 which means customers will be able to utilize new Cloud Tier option.
Data Domain Virtual Edition aka DD VE
Storage agnostic
No separate license needed for DDBoost, Encryption, or Replicator
Scales from 500GB to 16TB of usable capacity
Expand capacity by 1TB increments
The wrap up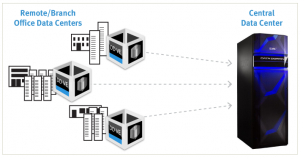 As EMC World 2016 comes to an end, the future of the new Data Domain family looks promising. Customers will now have to ability to protect remote offices at an affordable price. The ability to send data to any cloud provider in De-duplicated format will not only save customers time but also the all-important dollar as well.