EMC World 2016 is coming up in early May and it should be very interesting this year. Every year the conference is full of announcements dealing with new technologies along with insights as to the direction that EMC and the industry is moving towards. But this year will be even more so with the EMC/Dell merger news.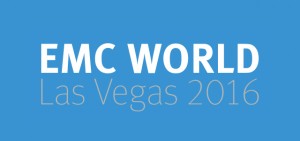 Why Attend EMC World?
As all of you know by now, EMC is in the process of being purchased by Dell. Well, Michael Dell himself will be a keynote speaker on the first day of the conference along with Joe Tucci of EMC. It should be very enlightening to hear them speak about the future and potential direction of the company after the merger.
EMC is calling 2016 "The Year of All-Flash" and we are already seeing many customers adopting XtremIO as their primary array for both performance and efficiency. I look forward to learning what is next from EMC related to their all-flash offerings and capabilities.
The breakout sessions are a great way to get more in depth knowledge of product technologies, to learn about new technologies, or to find out what's on the roadmap for future releases. As a way of exploring and broadening horizons, these are fantastic. The vLABs are also useful to get some hands on experience with most of these technologies that you may be interested in.
Finally, there is the Solutions Expo where EMC and over 100 product and solution vendors are located. Here you can browse through the many different hardware and software choices that can be used to enhance your IT infrastructure. Product experts are always available to answer questions and educate you on the myriad of technologies on hand.
Wrap up
The slogan this year is Modernize Your Datacenter. As always the technology landscape is evolving, such as converged systems, software defined datacenter, or next generation systems such as all flash arrays. EMC World is the perfect place to see these new technologies in action and to hear what is coming in the future. If that is not enough to pique your interest, it's also in Vegas! To get more information please visit www.emcworld.com.