The question really shouldn't be "why Avamar?" but instead why NOT? If you haven't looked in a few years maybe you should look again. With the introduction of the Dell EMC Data Protection Suite, Avamar can be packaged to almost any budget, without compromising any of its features. If anything the DPS Suite adds additional functionality that in years past would have added cost. The DPS Suite gives customers the choice to license Avamar either by the amount of data they are backing up or by the number of ESXi sockets they have.
Avamar Options
Avamar can be purchased as a traditional rack mount server, as an Avamar Grid, or (this engineer's favorite) a virtual appliance. No matter what format you choose, Avamar differentiates itself from most of its competitors by being able to backup your virtual infrastructure as well as your physical infrastructure, thus eliminating the need to run and manage multiple backup applications.

The Avamar Difference!
Now let's look at what makes Avamar a better backup choice than most, but let's remember that this is a blog and not a thesis so I'll keep it brief (at least I'll try). In my opinion there are a few components to Avamar that separates it from the rest of crowd. As mentioned before, the ability to backup your physical infrastructure as well as your virtual infrastructure from one backup application to most is a win win scenario. What really separates Avamar from the crowd is in the way it dedups data as well as its tight integration with EMC Data Domain. To put it mildly, Avamar doesn't care what it's backing up because it doesn't look at the data. Instead, it looks at the block or the code contained within the data. It uses what's called variable length segmentation to examine and apply a unique identifier to each block of data. It then matches that unique identifier with everything else it's backing up. This deduplication technology allows some of our customers to achieve data reduction rates on average above 95%. In fact we have one customer who is experiencing 99% data reduction written to their Data Domain on a nightly basis. Lastly, if you still aren't convinced that Avamar is for you, all data backed up by Avamar is deduplicated, compressed, and encrypted at the source before it's sent across the network!! How is that for a differentiator?
Optimized to protect VMware Infrastructure
Single Step Recovery
Capability to backup enterprise applications
Support for Desktops and Laptops
Backup Remote Offices from main production site
Reduced backup times
Reduced backup network traffic
Support for Hyper-V and cloud applications such as Azure
Flexible deployment options
Avamar to Data Domain Reduction
As previously mentioned, we have one customer who is experiencing 99% data reduction in their environment. I know that's a tough pill to swallow but the proof is in the pudding! The picture below is from the daily autosupport email generated from that customer's Data Domain. As you can see they are achieving over 99% data reduction and they backed up just over 8TB of data the previous night.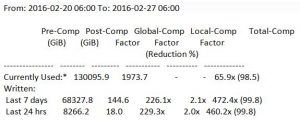 The Conclusion
If you haven't looked at Avamar backups then what are you waiting for? This is by far one of the most versatile backup applications in the market. The ease of use coupled with versatility to backup physical, virtual, or cloud applications is something that can't and shouldn't be overlooked. If you have any questions please reach out to a Focus Account Representative today.