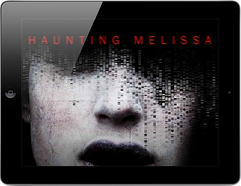 The rise of mobile and streaming video technology has given audiences several new ways to consume content, including binge-watching Netflix series. However, the majority of the shows, including those specifically made for online platforms, like "House of Cards" and "Orange Is The New Black", still rely on the same narrative devices like the ones produced for traditional television. Hooked Digital Media, a studio based in Santa Monica, California, is trying to change this tendency through the creation of films and shows that can be watched on mobile devices.

First attempt in its genre is the app-only horror series "Haunting Melissa" that was released last year. The studio has now come out with a sequel, called "Dark Hearts: The Secret of Haunting Melissa," which is available for download on iOS. The first show focuses on a young woman who believes her dead mother's ghost is following her after seeing apparitions and hearing strange noises in her home. Though the new series revolves around Melissa again, viewers do not have to watch "Haunting Melissa" to understand the plot of "Dark Hearts," which introduces several new characters.

Both series were directed and produced by Neal Edelstein, who believes that mobile devices and horror stories make a good fit because they create an intimate and somewhat claustrophobic feeling, like kids reading ghost stories under their blankets with a flashlight. Before co-founding Hooked Digital Media, Edelstein was a Hollywood film producer, where his credits included hits like "The Ring" and "Mulholland Drive." "Dark Hearts" was written by Andrew Klavan, whose books include bestsellers "True Crime" and "Don't Say A Word," which have been both adapted into movies.

Hooked Digital Media's productions are noteworthy because they not only represent a new distribution channel for independent film studios, but they also experiment with technology to create new storytelling and narrative techniques. "Haunting Melissa" and "Dark Hearts" were both created using Hooked Digital Media's proprietary, which includes a patented technology known as "dynamic story elements" that makes changes in an episode if you view it again. As a consequence, every time you rewatch an episode of "Haunting Melissa" or "Dark Hearts," you see and hear new details that add layers to the series' narrative and atmosphere.

"Dark Hearts" also uses Apple's SceneKit technology to drop clips at random into the app's window. Viewer analytics from "Haunting Melissa," such as which episodes or scenes got the most views or replays, helped shape the new series' story, structure, and chapter release schedule.

One of the most interesting elements about "Haunting Melissa" and "Dark Hearts" is that they challenge the binge-watching trend that Netflix and other streaming video platforms have encouraged by releasing an entire series at once. With Hooked Digital Media's products, viewers should turn on the apps' push notifications because episodes come out at frequent but random intervals.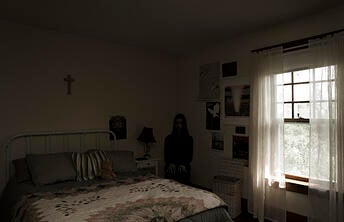 So far, Hooked Digital Media's experiments with story elements and episode release schedules has done well. Edelstein declined to disclose specific metrics for "Haunting Melissa," but says it viewership numbers were good enough for Hooked Digital Media to produce the sequel "as fast as possible."
"We are continuing with our unpredictable schedule, we've proven that it works and our users love it. The binge approach is great but it's not the only way," says Edelstein. "We utilize the app and the technology around it to shape a schedule, control the experience from the interface into the content. We know from our icon to the last frame of footage we need to shape the tone and the story, that's what makes this a unique approach and experience. Our goal is to create a never-ending open channel inside the app so we can actually shatter the binge model and the TV model."
I could not have written this article without the help of the following sources:
http://techcrunch.com/2014/11/20/darkhearts/?ncid=rss&utm_source=feedburner&utm_medium=feed&utm_campaign=Feed%3A+Techcrunch+%28TechCrunch%29&utm_content=FaceBook

http://uncova.com/dark-hearts-is-a-horror-series-for-ios-that-adds-new-details-every-time-you-watch-it