Written by the folks over at Microsoft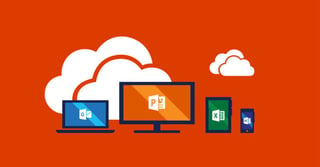 Independent professionals and small and midsize businesses have to do more with less. It is about staying close to your customers, focusing on your business differentiators, and being more agile than competitors. Office 365 can help your business achieve these goals with low upfront costs, rich features, a familiar Microsoft® Office experience, and a financially-backed guarantee of 99.9 percent uptime. It brings together online versions of our most trusted communication and collaboration products with familiar Microsoft Office productivity software for businesses of all sizes. Users get an excellent productivity experience across PC, phone, and browser for the way they work today—and the way they will work in the future. Our commitment to innovation means that with Office 365 for business plans you'll get the latest features and developments as they're released, along with new capabilities that further inspire and empower your users, such as Delve,
Personalized Insights, and Social Collaboration. The world's most popular productivity suite keeps getting better and better --while Google continues to play catch-up on issues such as file fidelity, offline access, and cross-platform support.
Microsoft knows productivity. We've been helping people use technology to get more done for over 20 years. During that time we've learned a lot about how people work. Office 365 delivers a full-featured, business-centric online productivity experience. It is designed from the ground up to meet business requirements for security, privacy, reliability, and manageability. Now, of course, Google also offers online productivity services with Google Apps for Work, so why should small and midsize businesses choose Office 365 over Google Apps? There are at least 10 good reasons:
1. Ensure the privacy of your business information
Your private business information should be just that—private. Your customers and partners trust you with their sensitive information as well, and Office 365 provides enhanced security by design with our state-of-the-art data centers, premium anti-spam and antivirus protection, and encrypted anywhere access to data.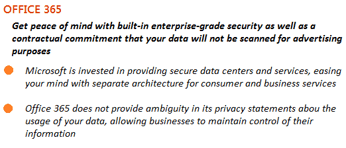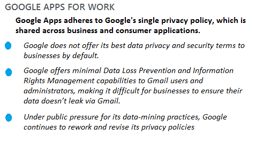 2.Work virtually anytime, anywhere
In today's always-on business world, being able to get work done any­where can be a significant competitive advantage—especially for small and midsize businesses looking to deliver superior customer service and to differentiate themselves from larger competitors. Office 365 delivers a familiar, yet powerful user experience across PC, phone, and browser, intelligently tailored for each platform.
Office 365
Consistently productivty acroos the PC, phone and browser, on any platform at any time.
Get a consistent experience across platforms and devices both online and offline.
With the Office client on the desktop, Office 365 users can keep working even if they experience network issues, or do not have internet.
Google Apps for Work
Google has limited offline capabilities for its services. They areonly limited to Chrome browsers. And the experience is inconsistent across services.
Google Apps for work dow not allow you to share office docuemnts when stored in Google Drive

The editing experience for Office documentsw in Google Apps for Work, is inconsistent between Chrome and other major browsers.

When Office documents are converted to native Google format in Google Apps for work, the full file formatting is lost.
3. Boost productivity and efficiency with a complete solution
Microsoft has been improving Office productivity applica­tions for years, decades, since forever, and Office 365 is a natural extension of that process. With Office 365, you get everything you love about Microsoft Office, and then some. Instant messaging, Yammer Enterprise, real-time presence, video conferencing, and much, much more are built right into the application and accessible from desktop applications or through the web browser.
Office 365
Office 365 enhances the familiar Office productivity experi­ence with tried-and-true ways to create, collaborate, and com­municate.
Users can see real-time presence and calendar availability, and can start a web conference from multiple entry points in the Office 365 solution, including Outlook, Outlook Web App, Microsoft SharePoint® Online, Yammer Enterprise, Microsoft Lync™ Online, and from within Office applications
Google Apps for Work
Google Apps for Work offers nowhere near the same rich, integrated functionality as Office 365.
Customers must rely on third-party solutions for core features such as Mail Merge, Bibliography etc.
Customers rely on third-party providers like CloudLock for data loss prevention capabilities.
4. Get up and running fast with a familiar, straightforward interface
Office 365 mobile, online, and desktop applications share a consistent yet tailored experience to give users instant familiarity across devices and locations. You get the familiar Microsoft Outlook® and Office productivity applications you already use—now powered by and working seamlessly with cloud services. Share a file in Word, Microsoft Excel®, or Microsoft PowerPoint® and almost anyone will be able to use it without thinking twice.