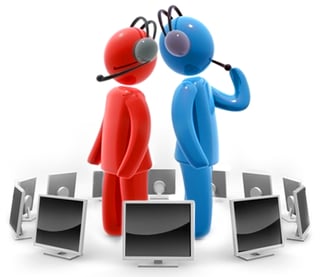 What is the difference between a Service Desk and a Help Desk? While they may sound similar, the ITIL v3 makes a point to decipher between them. Each form of service plays a distinct role in the communication between customer and IT provider.
The purpose of a Help Desk is to resolve a customer's issue as efficiently as possible. As one of the first points of contact between a user and IT managed services provider, the Help Desk focuses on the end user's needs. Efficiency is key when working at a help desk. When someone reaches out to the help desk, they are looking to fix an immediate problem. The ITIL also describes the help desk being at the "primary support level". When there's an issue with the printer or their office's servers are down, the Help Desk is the first one you call.
Comparably, the purpose of the Service Desk is to focus on corporate strategy. It too acts as a first point of contact for end users but it is also a single point of contact for IT service providers. Some of the specific tasks performed by the Service Desk include: evaluating current services, defining a plan that ensures no service outages or gaps, improving IT process and functions.
The service desk is designed to look at long term issues and come up with solutions to improve a client's overall performance. If the Help Desk is helping a client with a recurring issue, the Service Desk is looking into why that issue keeps happening and how they can fix it in the long run.
In a nutshell, a Help Desk fixes tactical problems while the Service Desk fixes strategic problems. Providing both allows you to provide the most well rounded care for your clients.