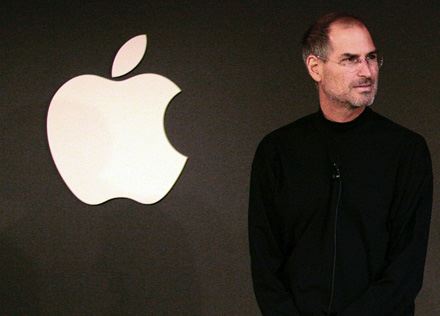 News of Steve Jobs death hit hard earlier this week, with people using social media to express their favorite memories, inspirational quotes, and other homage's to the Apple cofounder. AdWeek, for example, added Jobs to the iconic "Crazy Ones" commercial, including him among legendary leaders from Gandhi to John Lennon; countless websites including Apple, Google, and Wired have featured him on their homepage; and, devoted fans have even left flowers at Apple stores all around the world. As the flag hangs at half-mast at Apple HQ, the world mourns for the loss of an innovative, influential leader who was full of heart.
My first experience with an Apple product was fairly recent. Like many other PC users, I was having trouble with my HP for six months until it finally just would not turn on anymore, which of course was the day before a paper was due the first semester of my junior year (2009, for reference). I decided that I could no longer bother with an inefficient computer and went to the Apple store.
Upon my arrival, I was astounded by its grandeur and simplicity. Similarly to Steve Jobs, the Apple store reflects a classic image that reinforces performance and originality. My MacBook Pro is the exact epitome of the ingenuity and hard work that Steve Jobs put into every product. He has changed the way all companies look at business, technology and marketing. Among many other accomplishments, he created a usable technology that is not only appealing to consumers, but also represents a lifestyle.
After only one month of using my Mac, I became an Apple devotee, with my computer quickly becoming akin to a companion. Then a few months later Jobs announced that "Every once in a while a revolutionary product comes along that changes everything." He, of course, was referring to the iPhone, which revolutionized smartphones, quickly making them the most desirable type of technology. In fact, a PEW poll in May 2011 revealed that out of the 83 percent of Americans who use cell phones, 42 percent own a smartphone. For me, giving up my iPhone would be like losing an arm—it has become an extension of myself.
However, it is not just the technology itself that makes Apple innovative, it is the feeling behind the company. Choosing to be an "Apple person" is choosing to live a certain lifestyle, and building that lifestyle was Steve Jobs' greatest accomplishment. Keeping products secret and out of the spotlight helped build interest among users and his persuasive keynotes and product launches never failed to mesmerize audiences. Apple was established as an exclusive club with everything from dues to members, and, of course, tons of perks.
Jobs' goal was always to give the public what they needed, not what they wanted. "Don't improve products. Instead, enrich lives," he said. And with that in mind, Jobs built enduring products such as the iBook, the iPod, the iPhone, and most recently, the iPad. Because his mission was to make better tools, not more money (Jobs only got paid $1 a year for being Apple's CEO), Jobs successfully changed industry. Yet, it was in his heart that made him revolutionary and what will continue to inspire others. He always stood up for his beliefs and did exactly as he saw fit: "If today were the last day of my life, would I want to do what I am about to do today? And whenever the answer has been 'No' for too many days in a row, I knew I needed to change something," said Jobs.