The Hype of the Cloud
2009 could be called "The Year of the Cloud." The information technology sector has been buzzing with terminology such as "cloud computing" and "virtualization". So what is all the hype about? In order to see why cloud computing has taken the technology world by storm (pun intended); we need to know what it is, how it works, and why it can be beneficial.
What is Cloud Computing?
"Cloud Computing" isn't a technology, but rather a model of computing.[1]A cloud consists of servers, networks, and applications that are available to end users via a network (usually the Internet). So anytime "cloud" is mentioned, it is referring to hardware, software, or services that are accessible from virtually anywhere, with a simple network connection.
"Virtualization" is usually in reference to server virtualization where one physical server actually hosts several virtual servers. In cloud computing, one stand alone server can make an entire data-center complete with servers, networking devices, systems management, storage, and security, look like a single computer. This lets companies buy exactly the amount of storage and security they need.[2]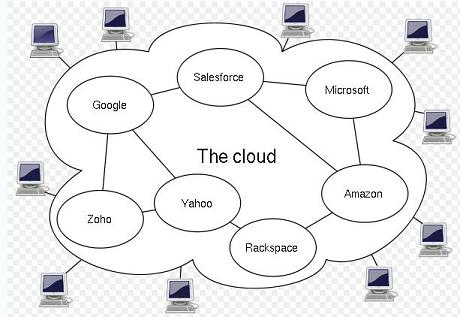 Public Cloud
Public clouds are offered as a service, usually over an Internet connection. An off-site third party provider hosts and manages the system. Users connect to the system via web applications or services. Public clouds usually charge a monthly usage fee per gigabyte and bandwidth transfer charges.[3] The service is on-demand and users can add or subtract the amount of storage in their cloud simply by contacting the host provider.
Private Cloud
Private clouds are built from software that runs on a piece of hardware at the organization. The difference from a public cloud is that this system is controlled by the organization. The benefits of this system are that a private cloud, although an investment due to the fact hardware is required, costs considerably less than traditional data management systems. Deployments of a private cloud are easier as they are software based, and the system is more secure as the system is within the organization's firewall and managed locally.
Why Go Virtual
There are a multitude of factors as to why a company would want to become virtualized. The most common reason why businesses adapt the cloud model is efficiency. Cloud computing drastically reduces the amount of time, money, and maintenance needed to operate a traditional data management system. With traditional systems; a company has to buy equipment; dedicate space within the office, while providing specific power and cooling needs to house the hardware; and hire administrators to install, secure, and maintain the data system. [4]
The cloud computing model helps to maximize efficiency and minimize cost.
---
[1] Fogarty, Kevin. "Cloud Computing Definitions and Solutions." CIO 10 Sep. 2009:Web. 27 Feb 2010. <http://www.cio.com/article/501814/Cloud_Computing_Definitions_and_Solutions>.
[2] Ibid.
[3] Maxey, Mike. "Cloud Computing Public or Private? How to Choose Cloud Storage."Cloud Computing Journal (2009): Web. 2 Mar 2010. <http://cloudcomputing.sys-con.com/node/707840>.
[4] "Seeding the Clouds: Key Infrastructure Elements for Cloud Computing." IBM. Feb.2009. IBM Corporation. 26 Feb. 2010. <http://www-935.ibm.com/services/in/cio/pdf/oiw03022usen.pdf>.