You've got big plans. You need technology that can grow right along with your business. You can have it all:
power
agility.
freedom to work the way you and your team work best.
The only constant is change, especially when it comes to the technology we use to help run our businesses. And the pace of that change is constantly accelerating, whether as a result of major innovations like cloud computing or the impact of economic events.
Technology should be an asset—one that helps you to anticipate, manage, and respond quickly to change. Technology should make life easier, and provide the flexibility to adapt quickly to changing business needs—whether expanding the infrastructure that powers your business applications, or adding the new PCs, devices and apps that help your employees do their best work.
A lot of small and midsize businesses are looking to cloud technologies to provide flexibility and help adapt more quickly to change. However, many aren't going with an "all or none" strategy. They are choosing a "hybrid" approach, keeping some components on-site and moving others to the cloud where it makes the most sense for their businesses.
Microsoft is unique because it offers a flexible platform that lets you choose the path that's best for your business, whether on-premises or cloud. And because it's Microsoft, it's a familiar platform. So change doesn't have to come with a huge amount of additional training and costs or related business disruptions. This means you can use technology to adapt more quickly to changing business needs and move more quickly than your competitors.
The right balance for your business
Get the best of server and cloud
Get just the right balance of simplicity, flexibility, and cost for your specific business needs. Choose to host your applications in the way that best suits your business, whether on-site, in the cloud, or both.
Host and access your applications in the cloud with Microsoft Azure and Office 365

Reduce costs as you grow by running more apps on the same server with virtualization built in to Windows Server 2012 R2
Work however you want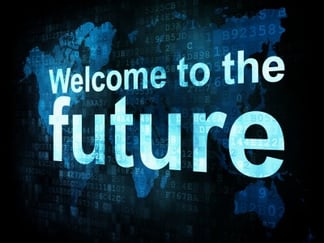 Enable flexibility across work styles, devices, and apps
Choose from a wide assortment of Windows devices to meet your needs, for a range of budgets, form factors, and capabilities
Access your familiar Office apps from anywhere across devices

Choose from a range of innovative touchscreen Windows 8 PCs and devices, including ultrabooks, 2-in-1s, tablets, and phones
Get only what you need, when you need it
Add employees and apps as you go
As your business grows your people are ready with the software and tools they need to do their jobs.
Easily scale up your business apps as you grow with Microsoft Azure

Add exactly the apps your new employees need instantly with Office 365
Technology picture from: http://www.atlanta.k12.ga.us/instructionaltechnology
Welcome to the Future Picture from: http://www.forbes.com/fdc/welcome_mjx.shtml