How much do you know about cloud computing?
As a part of an ongoing series to answers questions of IT decision makers, NSK Inc has gathered 7 statistics on cloud computing that you probably didn't know before.
The Governement and the cloud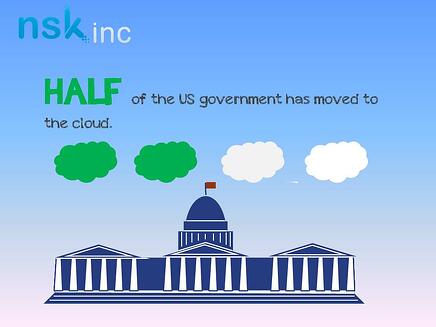 Over
HALF
of the US government is in the cloud and they spend about
$2 billion
annually on cloud services. Experts say the US government is the biggest cloud user in the world. Government agencies are deploying commercial cloud services, private clouds, shared clouds and using new policies, processes, and tools in order to scale the size of their cloud.
Security has been the main concern for government CIOs which is the reason why government agencies have been early adaptors of private clouds.
Private clouds are scalable and offer close control over the cloud environment.
What industry has the most ACTIVITY in the cloud?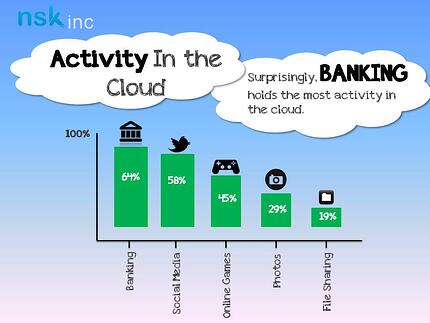 You might think social media would have the most activity in the cloud, and they are definitely top contenders, but BANKING contributes the most activity in the cloud. With the introduction of mobile banking the cloud demand almost doubled in 2013. And the new trend of "peer-to-peer" lending or "crowdfunding" for loans has grown in popularity pushing more applications to the cloud. Money management services like Mint.com, PayPal and Moneybookers.com have driven many customers to manage their personal finances with the help of the cloud. Soon enough we will all be paying for goods virtually with the support of the clouds (has anyone looked into the growth of Bitcoins lately?)
What happens when businesses adopt the cloud?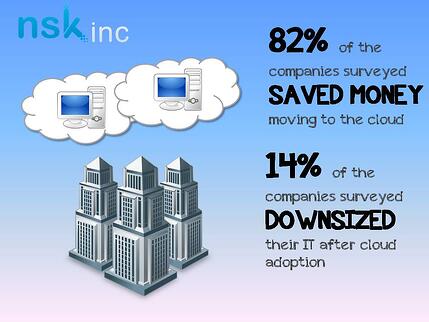 A lot of good things come from adopting the cloud for businesses. These statistics were taken from a survey of a large group of IT decision makers from a variety of enterprises. They found that after adopting the cloud their businesses SAVED MONEY and CUT COSTS. Some other surprising statistics:
90% of IT decision makers found at least ONE area of improvement in their IT department.
80% saw improvements within the first 6 months of adopting the cloud.
Let us know your cloud computing questions! Contact us at sales@nskinc.com.