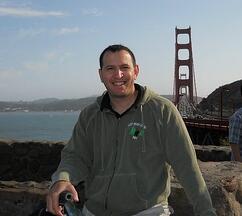 It can take new IT consultants anywhere from a couple of weeks to over a month to acclimate themselves to NSK Inc's work style, ethic, and load. NSK's newest team member, Ahmed Fadili, didn't need such a substantial time period to become oriented. In fact, Ahmed was on site with a client during his very first days on the job. Determination and experience like this can be hard to come by and since February 6th, NSK has felt lucky and excited to have Ahmed spearheading the charge to find solutions to any technical problems encountered by clients on a daily basis.
Ahmed works directly with the staff on technology problem analysis and resolution, though his primary responsibilities are to support technology infrastructure and to facilitate end user requests for new and upgraded technologies. His basic day-to-day work includes repairing servers, patching networks, and restoring desktops. Ahmed has developed a practical system for working around complicated obstacles. "I try to duplicate the issue unless I know it will cause further problems on the network, and then I research the problem and any possible documentation; after that I start the troubleshooting."
Born in Morocco and having moved to the United States 10 years ago, Ahmed now lives in West Peabody, MA. When he's not showing off his skills on the soccer field or catching up on the latest blockbuster flick, Ahmed loves spending time with his wife and their one month-old baby boy.