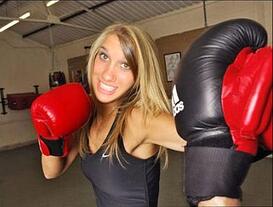 In any business, managing a single client's expectations can be a daunting task. Two months into the job, Bridget Benner manages 15 clients. One of the newest members of the NSK Inc. team, Bridget has the perfect job to complement her self-described bubbly personality. She's NSK Inc.'s new client account representative.

Bridget's goal is to make sure her clients are happy and that everything runs smoothly by proactively analyzing their accounts. Whether forging and maintaining connections between NSK and clients or preparing for one's upcoming inter-company softball league, Bridget puts their needs first. Despite being new to NSK, Bridget is no stranger to the IT world and her resume is impressive. Prior to becoming a client account rep phenom, she attended Xavier University in Cincinnati, Ohio on a swimming scholarship where she majored in marketing and minored in information technology. After an internship at Merrill Lynch and a job as a project manager for an interior design firm, Bridget found an opening at NSK and has since thrived, becoming integral to the company's success in the short time she's been here. "I'm a people-person, a talker. It makes my work fun" she says.
Having moved from New Jersey to Washington to Florida, while growing up, Bridget now calls Brighton home. Outside the office, she's still an avid and talented swimmer and has taken a keen interest in kickboxing as of late. Having recently adopted a cat, Monroe, Bridget's love for animals stems from her childhood where her family cared for numerous horses, dogs, bunnies, and birds.