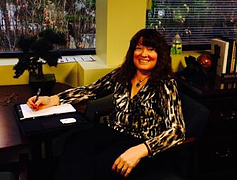 Employee benefits represent one of the largest expenses for any company and can be unwieldy to manage. Clark & Lavey, leading benefits solutions broker and consultancy to businesses throughout New England, helps clients negotiate the best benefits at the lowest cost, save time, stay compliant, boost productivity, and keep employees happy.
CFO Laura Bennett thinks human resource professionals probably have the hardest job in their organizations. In a complex, constantly evolving environment, they're tasked with holding the line against out-of-control healthcare costs, to avoiding employment related litigation. So, what does it take then to help dozens of companies do this all at the same time? Laura shares some insight. (P.S. She's a member of MENSA International.)
Q. The Affordable Care Act and current health care climate ultimately will impact businesses that offer group benefits. How are you helping your clients make the best decisions?
A. We provide our clients with a continuous source of legislative and compliance guidance and tools to help them prepare for the ever increasing requirements and challenges from the Affordable Care Act. Our "Client Alerts," for example, provide them not only with the law, but explain it in practical terms and address the potential impact the law may have on employers. Our clients know they can depend on us to provide them with the most current, up-to-the-minute information as legislative changes and mandates occur. We also meet with our clients to discuss the impact changes can have and guide them with recommendations and solutions that will keep them compliant while delivering benefits at the lowest cost possible.
Q. Are there ways for small companies to compete with the market muscle of large employers to control health insurance costs?
A. Group captives for mid-market companies help level the playing field. A group captive is a self-funded insurance facility for participants who join together to share risk. Each participant has a desire to control their own risk. Participants typically maintain good loss histories and effective risk management programs. Group captives have been around for decades in the Property & Casualty insurance space; they are growing significantly in the Group Health insurance space.
Our mid-market captive program allows companies with as few as 50 employees to participate in self-funded health insurance programs -- just like the large companies do and enjoy the reduced costs that such programs deliver when compared to fully insured health plans. More profits resulting from reduced costs stay in our clients' hands rather than with the insurance carriers.
Q. What are some other ways you help clients reduce costs?
A. We negotiate very hard on behalf of our clients with the various insurance carriers. We've successfully reduced many of our clients' medical loss ratios (MLRs) through creative and cutting edge solutions. Employee wellness plans can dramatically reduce costs. Our wellness plan has produced some of the most outstanding results in the industry, with some of our clients realizing 30% reductions in their claims projections and MLRs. This is both on a premium and self-funded basis. Medical loss ratios not only control premiums, but also premium increases for future renewals. There are other value-added tools and services we provide to our clients that are designed to save their human resource staff time and money and which increase employee satisfaction.
Q. We've heard that better management of employee benefits can actually also drive revenue.
A. Absolutely! We all know that employees are companies' most important assets. Happy, healthy employees directly impact a company's performance level which in turn drives revenue. We maintain an "understanding and educating" approach with our clients. To truly be able to effectuate change in an organization, we must understand its culture. That way, we can make strategic recommendations that can be implemented over a period of time. To assist in this approach, we provide over 200 employee communication pieces to help human resources departments clearly communicate trends and future issues facing each employee and their families.
Q. Does a company have to be a certain size to take advantage of your services, for example, to implement an employee wellness plan?
A. We provide employee group and voluntary benefits solutions to companies of all sizes, and specialize in delivering benefits and plan designs that positively impact employees' well-being. Our company mantra is "Let Us Find a Solution for You!" and that extends to all clients, regardless of size.
Q. Tell us about the dedicated team approach you use in servicing your clients.
A. We designate a Consultant -- a term we find more fitting to our business partnership nature than "Broker" -- and an Account Services Representative to every client. Not only do our benefit Consultants maintain current producer licenses, our dedicated Account Services Representatives are licensed, as well. These relationships remain constant so there is continuity and strong knowledge of the client's business which in turn maximizes our effectiveness in designing products and strategies that benefit (pun intended!) our clients.
We have a team of experienced professionals which include our Human Resources Practice Leader and me as CFO, committed to providing guidance and assistance with their business needs which even extend beyond employee benefits.
Q. You've had considerable experience with international business in your career before joining Clark & Lavey. How does that enrich what you bring to your role as CFO?
A. Prior to joining Clark & Lavey, I did indeed gain much experience with international business and travelled around the world accordingly. I believe the more one travels to other countries, the more one realizes there is not one best way of doing things but many ways. Being exposed to a variety of cultures and geographically unique business needs leads one to greater understanding and creativity in general. One becomes a global citizen, becoming more open minded and communicating more effectively. This enhances one's ability to make a difference in the world -– my ultimate goal.
Q. What aspects of your job do you enjoy most?
A. The most enjoyable aspect of my role as CFO is helping our clients with guidance and support utilizing my financial background. When the phone rings, the call can be coming from any industry, any size client, and on any financial subject or issue. No two clients are alike and no two days are alike. I enjoy the variety and the appreciation expressed by our clients when we act as extensions of their organizations.
Sponsored by NSK
From Help Desk Support to Cloud Computing, We are here as your Boston IT Experts
NSK Inc is an information technology consulting and outsourcing firm with a focus on small and medium business IT management. Headquartered in Boston, MA, NSK offers a wide variety of IT services including managed monitoring and maintenance and cloud computing technologies. For more information please CLICK HERE