Iron Mountain just announced it is considering selling off its digital storage and online back-up services. According to the news release, the company will still offer its customers digital back up alternatives, but through partnerships with other organizations. Statistics from a Boston Globe article about Iron Mountain's announcement show that of the $3.1 billion in revenue Iron Mountain took in from 2010, only $284 million came from their digital storage offerings.
I'm not surprised in the least at their decision. Iron Mountain is still advertising a White Paper on their website with a byline that reads "Tape is an important part of organizations' business continuity programs." Granted the White Paper was published back in 2008 right before the Cloud Computing craze took over, but you would think they would update their information accordingly.
The truth is there are risks to storing your data off-site regardless if it is over an internet connection to the Cloud or via physical tapes or documents that are transported off-site to a warehouse. Physical tapes are not only expensive, but they are vulnerable to theft. South Shore Hospital in South Weymouth, MA had a massive data breach in 2010 when their files they were sending off-site never reached their destination.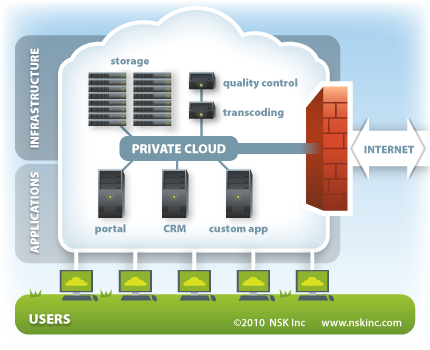 With the Cloud, you can actually build an internal Cloud (or Private Cloud) using your organization's intranet (behind your firewall) and virtualized servers. The result - you get Cloud like efficiencies without sending your data outside the walls of your organization. Your organization doesn't have to worry about tapes, or scheduled pickups, or data leaks over the internet because your files never actually leave your organization.
To learn more about the different types of Cloud Computing, please download our Hybrid Cloud Computing Report.