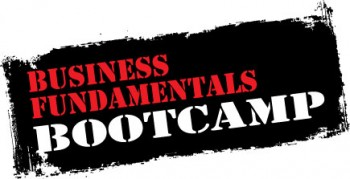 NSK inc is a Silver Sponsor to the third Business Fundamentals Bootcamp being held at the Cambridge Innovation Center on October 21, 2011 from 11:30 AM until 6:00 PM
Are you a recent CEO or CXO in the early growth stages of building your company, tackling problems such as risk management, stock appreciation rights, brand equity, etc.? Solving these demanding issues can be a challenge, especially without proper guidance, which is why Acceleration Partners and Supporting Strategies are hosting a Business Fundamentals Bootcamp.
This is the third installment of the Bootcamp, designed to bring together leaders of small business implementation to lend their expertise on topics of Finance & Administration, Strategy & Marketing, Management & Operations and Legal & Risk Management. Unlike similar workshops and seminars in Boston which merely focus on advice and inspiration, the Business Fundamentals Bootcamp will provide tactical tools and takeaways.
Not only will Bootcamp attendees gain valuable knowledge about how to address core issues about growing their small business, but they will get an opportunity to network with other small business leaders.
If you are interested in learning more about the lineup read on for an overview of the breakout session speakers.
You can win FREE Tickets from NSK Inc by filling out the "Free Bootcamp III" form to the right of this article, or you can register for the event here.
Finance & Administration
Charlie Popkin, Founder & Principal, Longwood Associates
Breakout Session: "Business Growth & Risk Management: Proactive Steps and Pitfalls to Avoid"
Charlie is a seasoned financial professional with experience growing companies in fast paced environments, improving financial performance of troubled enterprises and structuring complex transactions. Since founding Longwood Associates in 2001, Charlie has helped companies raise more than $250,000,000 in private equity and debt financing. His areas of expertise include executing business plans to profitability, capital fund raising, design and implementation of financial management systems, management reporting tools, budgets and forecasts.
Ron Flavin, VP Marketing, Flying Tigers International
Breakout Session: "Government Grants for Businesses"
Originally in the entertainment consulting sector, Flying Tigers International, headquartered in Houston, TX, now caters mainly to business professionals. Even though it was incorporated in 2005, Flying Tigers has stayed small, consisting of only three executives.
Jonathan Iannacone, Founder & CEO, Verge Advisors
Breakout Session: "A Mean Lean Finance Machine – Optimizing the Finance Function"
For over a decade, Jonathan has been providing CFO and controllership services to diverse companies from early stage startups to larger privately held businesses. He specializes in advising the management teams of organizations that are experiencing significant growth. His unique professional background includes diversified consultative engagements in the areas of internal controls, forensic accounting, business valuation, customized financial reporting, and capital allocation strategies.
Jeffrey Warfield (CPA, Manager) & David McManus (CPA, Co-Managing Partner), Alexander, Aronson, Finning & Co., P.C.
Breakout Session: "Death by Taxes – How Taxes Can be Your Downfall!"
Jeff's diversified experience includes providing tax and accounting services to publicly traded companies and a wide variety of national and international closely held businesses in areas including the distribution software, financial services, construction, and commercial real estate industries.
David has been with AAF since 1987, with a commercial client base consisting of professional services, manufacturing, and high tech companies, where he consults on financial, accounting, tax, and profit enhancement matters. Additionally, David has extensive experience in conducting ERISA employee benefit plan audits, as well as audits in accordance with Government Auditing Standards and, Office of Management and Budget (OMB) Circular A-133.
Strategy & Marketing
Bob Glazer, Founder & Managing Director, Acceleration Partners
Breakout Session: "Getting Your Business Found Through Search: What is Search Engine Optimization (SEO), How Does it Work for Your Business & How Do You Best Measure Your Return on Investment?"

Robert is a serial entrepreneur and customer acquisition specialist with an exceptional track record of growing revenue and profits for early to mid-stage consumer product and services companies. He has an extensive background in operations, marketing, strategy, and business development with an emphasis on company formation, financing, and revenue growth. Experienced in taking new ideas from concept to execution, Robert has served as an adviser and consultant to numerous early and growth-stage businesses, many of which have ranked on the Inc 5000's list of fastest growing companies.
Victoria Nessen Kohlasch, President & Owener, Nessen Kohlasch & Associates
Breakout Session: "Top Actions You Can Take to Maximize Your Brand's Equity"

Victoria offers more than 27 years of corporate experience building and implementing growth strategies, marketing and sales plans, and building brand presence. Before starting NK&A, Inc., Victoria worked for companies such as The Timberland Company, Reebok International Ltd., and Corporate Realty Investment Company.
Barry Clapp, Founder & CEO, Clapp Limited
Breakout Session: "Fundamental Selling for Non-Sales People"
Clapp Limited, LLC increases the value of early stage technology companies by accelerating the infusion of cashflows via large sales and strategic revenue arrangements. Clapp Limited delivers a clear understating of the proper positioning of company products that will drive revenues, growth to a sustainable revenue level, and increase company valuation.
Jon Klein, Founder & Partner, Top Line Strategy Group
Breakout Session: "How to Pick the Best Market for Your New Product When You Only Get One Shot"
Jon brings a unique blend of strategy consulting and hands on operating experience to The Topline Strategy Group. Prior to founding Topline, Jon was VP of Marketing at Promptu, a venture-backed CRM software company. He also served in senior marketing roles at Documentum and Docent. Jon also worked as a Case Leader in the Chicago office of The Boston Consulting Group, advising Fortune 500 clients in a range of industries on corporate growth.

Management & HR
Chris Thomajan, Managing Partner, Tech CFO
Breakout Session: "What are my Metrics? How to Build a Management Dashboard"

Chris has been a CFO for 18 years in a variety of industries, including Investment Banking, Software, Internet Services, Telecomm, and Bio-Technology. He has extensive experience in raising debt and equity, has been involved in numerous M&A transactions and has managed the Operations of several start-up companies during rapid revenue growth.
Thomas Schinkel, President, Thomas Schinkel & Associates
Breakout Session: "Making Your Business Model Crisis Resistant"

Thomas advises owners of privately held businesses on all aspects of selling their companies in the event of market restructuring and/or retirement. This includes business valuation, process management, and orchestrating the "informal" auction to create optimal value for my clients. He specializes in cross border mergers and acquisitions, office products, medical devices, general aviation, hardware, software, and expert testimony.
Myles Miller, Founder & CEO, Lead UP
Breakout Session: "What is so Great About Being a Leader?!"
As CEO and Founder of LeadUP.Biz, Myles has led corporations, non-profit organizations and thousands of individuals to new heights and enhanced abilities through online and in-classroom professional development training. With over 25 years experience in the project management and training field across multiple industries, including retail, defense, state and federal government, and hospitality, he has led projects ranging in budgetary size from $100K to $500B.

Legal & Risk Management
David Gibbs, Partner, Bowditch & Dewey, LLC
Breakout Session: "Board Effectiveness: Using Your Board of Directors to Enhance the Performance of Your Company"
David is a business and trial lawyer with a national practice in dispute resolution. He helps clients prevent, manage and resolve disagreements on a broad range of matters involving business, legal and personal issues. David advises owners, boards and senior management of for-profit and non-profit organizations on leadership, succession, governance, compensation, adapting to change and investor relations. He has worked extensively with closely held, family and professional services businesses to deal with planning, consensus building and resolving conflicts.
Bill Contente, Senior Partner, Gesmer Updegrove
Breakout Session: "Venture Capital and Angel Term Sheet"
As a corporate lawyer and senior partner at Gasmer Updegrove, Bill has provided clients with quality legal advice, practical business guidance and value-added services that drive revenue and increase profitability for 25 years. Bill has negotiated, drafted and closed venture capital financings, angel financings and successful exits, and engaged in strategic discussions with emerging companies, from raw start-ups to companies with $50,000,000 in revenues.
Colin Coleman, Managing Partner, Innovative Business Law Group, PC
Breakout Session: "Stock Appreciation Rights (SAR) Plans (aka: Phantom Stock)"
Colin serves as general counsel to a wide variety of businesses. He offers comprehensive, practical advice to business owners on such matters as business organization, contracts, licenses, employment, tax, mergers and acquisitions, business planning and exit strategies.
Lauren Brenner, President, HR ServicesDivision, Telamon
Breakout Session: "Top 5 Legal Hot Spot for Businesses"
Lauren is a highly-experienced HR Generalist and Consultant who brings more than 25 years of experience to our clients. Lauren provides best practices advice and services to organizations in a wide range of industries, and has been asked to present on a variety of HR-related topics to organizations including NEHRA (New England Human Resource Association), Chambers of Commerce and the Plymouth County Bar Association