Does it make sense to outsource your IT?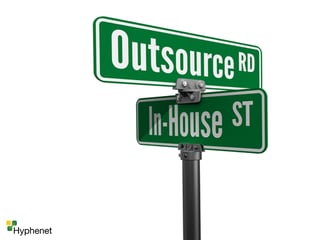 There's no single right answer to this question. A great deal depends on the following:
Can your in-house team do the job well?
Can someone else do the job better?
If the answer to the second question is "yes," will the difference be enough to cover the cost of their services less your internal management savings?
We believe that the answer to the second question is "yes" in almost every case. As your company matures, the level of complexity necessary to optimize for size and efficiency has grown beyond all but a handful of the very best in-house network administrators.
The right outsourcing relationship should involve:
Trust that the company you chose has better personnel than you could find or hire;
Recognition that they have tactical expertise and experience beyond that of your internal team;
Oversight and collaboration with respect to goals and general strategies rather than tactical details; and
Reducing the need for internal management. You shouldn't need a full-time employee sitting in your office unless your systems are astronomically huge, or unless your systems are ineffectual.
Flexibility, extra assistance when you need it, a broader level of IT skills and expertise and potentially lower costs.
Structure
Cost often drives the outsourcing of key IT applications and services, but your analysis shouldn't stop there. Factoring in employee salaries, employee workloads, and the core expertise of your IT department also needs to come into play when making the decision to outsource or keep the IT applications/systems under the management of your in-house staff.
For brevity sake, this case study will focus on the ongoing support needs and costs associated with a small to medium business that is selling a service.
In this example we'll focus on the legal services industry. The law firm of Hamilton, Madison and Jay employs 22 lawyers, 15 executive assistants, 10 paralegals and 20 associates. They have a single office located in San Francisco California and have one network administrator as well as a junior level technician that assists the network admin with daily operations. The network administrator is retiring in one month. The management committee needs to identify the route the firm will take in the future.
Over the last 10 years the IT needs of the firm have changed dramatically as technology has evolved and the firm's caseload has grown.
Hamilton, Madison and Jay LLC: Current setup
75 Desktops and Laptops
Digital Phone System
8 servers providing interoffice support functions as well as hosting the time and billing system, client databases, company website and email, backups and blackberries
Let's start with a breakdown of the costs that the firm is currently incurring. The salary for a Network Administrator is based on the average figures from salary.com. Figures were current as of September 14, 2016.
| | | |
| --- | --- | --- |
| Benefit | Median Amount | % of Total |
| Base Salary | $95,210 | 71.3% |
| Bonuses | $1,931 | 1.4% |
| Social Security | $7,431 | 5.6% |
| 401k/403b | $3,497 | 2.6% |
| Disability | $874 | 0.7% |
| Healthcare | $6,592 | 4.9% |
| Pension | $6,120 | 4.6% |
| Time off | $11,956 | 8.9% |
| Total | $133,612 | 100% |
The salary for the PC Technician is based on the average figures from salary.com. Figures were current as of September 14, 2016.
| | | |
| --- | --- | --- |
| Benefit | Median Amount | % of Total |
| Base Salary | $62,607 | 69.7% |
| Bonuses | $1,014 | 1.1% |
| Social Security | $4,867 | 5.4% |
| 401k/403b | $2,290 | 2.6% |
| Disability | $573 | 0.6% |
| Healthcare | $6,592 | 7.3% |
| Pension | $4,008 | 4.5% |
| Time off | $7,830 | 8.7% |
| Total | $89,782 | 100% |
With these figures the average cost of the in-house IT support personnel is $223,394.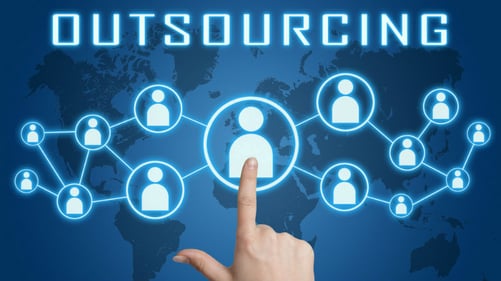 The management committee is evaluating the idea of outsourcing their daily IT operations to a local IT consulting firm. As such, they listed the benefits and drawbacks to their existing support structure.

In-house IT staff benefits:
Ability to closely monitor performance. Staff is always "down the hallway."
Predictable employee overhead; the firm knows exactly what the yearly salary and benefit package amounts to.
Current IT staff has institutional knowledge of the firm and its needs.
Looking forward, the firm has identified the drawbacks of maintaining an in-house staff.

In-house IT staff drawbacks:
IT support staff maintains a reactive model of support rather than proactive.
IT support staff is not always up to date on the latest systems and programs. They are busy trying to make existing ones work.
Absences – whether vacation or sickness, who covers for IT staff and can they still handle all the normal tasks?
Solution
The ideal solution will accomplish 3 objectives. First, the benefits of employing an in-house staff must be maintained. Second, the drawbacks that have been identified must be resolved. Third, the costs associated with IT staffing will be lower then current costs.
NSK Inc employs a team of highly qualified consultants that come from a variety of backgrounds. Prior to NSK Inc, all have been involved in the "in-house" model of support, giving them an understanding of the IT needs that occur on a daily basis. While there will be a consultant who is primarily responsible for the firm, any of the consultants at NSK will be available if a problem that they have experienced arises. The knowledge and experiences of the team as a whole will be at the firm's disposal.
This includes:
Preventative Maintenance
A critical part of IT is making sure that downtime does not occur. As such, NSK has developed a monitoring process that focuses on being proactive instead of reactive. It includes:
Backups
Ensures that all backups are performing to specifications, including data integrity.
Anti-virus
Monitors virus definition status and log files for all servers and clients.
Server Maintenance
Monitors disk space usage, which allows for provisions to be made in the event of low space before network performance is affected.
Monitors and installs all applicable hot fixes and security patches for servers, verifies completion.
Reviews all event logs for servers. This insures continued operation and identifies potential issues before they occur.
Firewall Maintenance
Reviews firewall logs to identify security threats and potential usage issues.
Exchange
Monitors mail systems to insure that systems are running as expected. Monitors drive and database size to identify possible issues with performance.
On Site Consultant
In addition to the remote maintenance that NSK provides, an on-site technician will visit the firm weekly and expects to be there 16 hours per week. By consolidating the monitoring functions of the Network Administrator position to NSK (a US based) network operations center, the committee can reduce the amount of time that an onsite technician is required, thus significantly reducing the amount of billable hours to the firm.
NSK Outsourced IT Savings
NSK INC. Outsourced IT cost breakdown: Yearly Cost:
Unlimited Help Desk Support (75 Desktops)
@ $55.00* per/month Support for 75 Employees = $49,500.00

Monitoring & Maintenance for Servers (8 servers
@ $200 per/month)
$1600 per month X 12 months = $19,200.00
Backup & Disaster Recovery for servers and files =

Onsite Technology Associate @$145 per hour X 8 hours
per week = $60,320.00
*This number is based on the number of users ________________________
$124,520.00
Total cost savings over in-house solution yearly = $ 98,874.00
This scenario, while fictitious, closely resembles the solutions that we have provided clients with in the past. The needs of each organization are different and absolutely must be treated as such in order to provide the cost savings and increase in productivity for the client in question.
For an expanded PDF Version of this article please CLICK HERE.
(Photos curtesy of Google images)