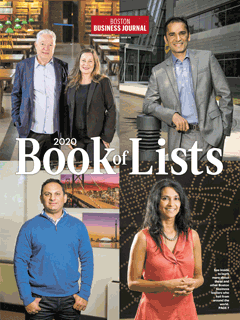 BOSTON, M.A., January 9, 2020 — Once again, Focus Technology is climbing the "best of" lists in the 2020 Book of Lists recently published by the Boston Business Journal. This prestigious honor showcases Focus Technology's ongoing commitment to quality and service as they provide next gen IT infrastructure, managed IT services, cyber security and cloud solutions for companies throughout New England.
Coming in at #13 on the list of Largest IT Consulting Firms in Massachusetts and #100 on the list of Largest Private Companies in Massachusetts are only two of many accolades the IT solutions and managed services provider has received over the last several years. Other awards received include being named to Channel Futures MSP 501, CRN Solution Provider 500 and CRN Elite 150 MSP list.
This achievement demonstrates their commitment to a standard of excellence which has resulted in their continued success in the region.
About Focus Technology
Headquarted in Boston, Focus Technology a leading information technology partner, providing customers a new way to consume technology by designing and implementing innovative information technology solutions and managed IT services. Our team of experienced industry-certified solutions architects provide customized solutions specifically designed to address each client's unique business requirements and strategic vision. Focus Technology's solutions and services are closely aligned with our core competencies – Next Generation Data Center Infrastructure, Managed Services, Cloud and Automation, Cyber Security and Professional Services Delivery. The company has been recognized with numerous awards, including CRN MSP Elite 150, CRN Fast Growth 150, CRN Tech Elite 150, CRN Triple Crown Winner and Boston Business Journal's Best Places to Work.
About Boston Business Journal
The Boston Business Journal is Boston's leading source of business news, information and events; strategically targeting businesses decision-makers. Their media products provide comprehensive coverage of business news from a local, regional and national perspective reaching their readers through the weekly print publications, their website www.bostonbusinessjournal.com, e-mail products and events.