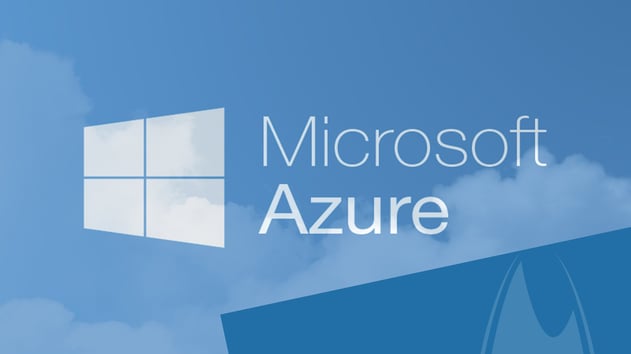 The reality that a massive online retailer, dominating search engine provider, and long-reigning operating system developer have all entered the cloud platform industry is proof of cloud technology's prowess as a solution. Although Amazon Web Services is a popular attraction for businesses of all sizes, the cloud-computing platform enterprise remains competitive as businesses of all sizes devise new methods of taking advantage of large, networked data centers. Parallel to the recently released Windows 10 Operating System, Microsoft has increased the vigor of their approach to developing and marketing their own cloud-computing platform called Microsoft Azure. While the brand that they are promoting highlights the benefits of adopting their platform, Microsoft does not lack the versatility required to support the authenticity of their fairly aggressive campaign. Microsoft Azure's arsenal of web services make their platform a viable option for countless businesses.
Microsoft Azure provides a business with several solutions for internal computing and management. Azure Active Directory, which is the cloud upgrade of the original Active Directory (a service that allows administrators to manage servers, devices, and processes in a network), now gives administrators the ability to manage all of the users, off-site/on-site servers, web applications, and other identity-related concerns within an integrated cloud network. Furthermore, Microsoft Azure provides services to businesses that allow users to store large amounts of information in the cloud as well as to perform complex processes that require significant computing power and data access. Among some of these services are Azure HDInsight, which allows a Microsoft customer to virtually work with and analyze big data. Another internally valuable service is Azure Machine Learning. Customers subscribing to this solution can execute the design, testing, operationalization, and management of predictive analytics. Additional solutions for centralized business management, operations, and analysis facilitate security implementation, data backup, disaster recovery, data collection and interpretation, additional storage features, virtual desktops, and web application access.
While Microsoft Azure is valuable for private business activity, some of its greatest features concern the delivery of a business customer's products, services, and content to its own customers. Azure is built to support the building, management, and maintenance of enterprise, web, mobile, and Internet of Things applications. Azure Cloud Services is the general resource for customers intending to build, deploy, and maintain a web software application. Azure Mobile Engagement provides customers with a similar solution but in the context of mobile applications. The customers of Microsoft Azure will be able to select the tools that they need to deliver a well-maintained and carefully managed website or application. Because of the variety of service options, businesses can choose precisely the cloud-computing package that will support their unique requirements based on their industry and structure. Additionally, the competition between cloud-computing platform providers promotes the regular development of new services and allows businesses to choose both the precise service bundle and provider that will make their intentions practical.
Cloud-computing platforms are an important resource for businesses across the globe. Although businesses have the option of building their own data centers in order to manage their networks and deliver their services, the centralization of a network using existing data centers provides the option of outsourcing maintenance concerns and supporting complex computing processes. Furthermore, use of a cloud-computing platform provider often includes access to existing management tools. Nonetheless, customers do not necessarily need to choose between a private data center and a larger cloud-computing platform. Microsoft Azure gives customers the option of integrating the two networks. By paying for only what is used, Azure customers can create an environment that is customized to a business's particular needs and expectations based on existing resources and conventions. While businesses can choose from several platform providers, Microsoft Azure demonstrates a diverse collection of services and tools and an ongoing intention to improve.
Images
http://i.ytimg.com/vi/f5mlnTNYT0Y/maxresdefault.jpg
Sources
http://azure.microsoft.com/en-us/overview/what-is-azure/
http://searchcloudcomputing.techtarget.com/definition/Windows-Azure
http://cloudacademy.com/blog/public-cloud-war-aws-vs-azure-vs-google/
http://www.zdnet.com/article/windows-azure-a-very-difficult-concept-explained/
http://blogs.windows.com/business/2014/11/07/windows-10-manageability-choices/
http://www.techrepublic.com/blog/software-engineer/microsofts-azure-cloud-computing-platform-an-overview-for-developers/