Microsoft and Dropbox in the beginning of November announced a partnership that will allow Microsoft Office apps to sync directly to your Dropbox account, speeding up collaboration and editing. More precisely, the deal has four main parts:

1. Quickly editing Office docs from the Dropbox mobile app;
2. Accessing Dropbox docs from Office apps;
3. Sharing Dropbox links in Office apps;
4. The creation of first-party Dropbox apps for Microsoft's mobile offerings.
The partnership will benefit Dropbox users who use Office across desktop, mobile, and the web as Microsoft's productivity suite will soon become the standard way to edit Word, Excel, and PowerPoint files stored on Dropbox storage. Office for iPad will benefit the most, with an update coming in the following weeks that will allow Dropbox users to link their account directly to the Word, Excel, and PowerPoint iPad apps.
Dropbox is also adding options to its own mobile apps to push its users over to Microsoft Office to edit documents. If for example you are on a mobile device that does not have Office installed, then you will be encouraged to download the apps to edit, allowing any changes you make to sync directly back to Dropbox. Microsoft's Office for iPad and Android apps currently require an Office 365 subscription to edit documents. Microsoft is also adding the ability to share Dropbox files from within its Office apps using Dropbox's own sharing functionality.
In the first half of 2015, Dropbox is also planning to support Office Online directly from its web app. Editing for Word, Excel, and PowerPoint documents will be managed through Microsoft's Office Web Apps (Office Online) by default, and the documents will be stored back to Dropbox. 35 billion Office documents are stored on Dropbox, so it is not a surprise that both companies want to work more closely together.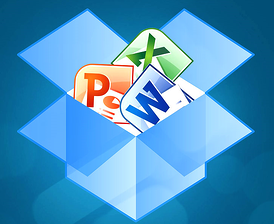 The partnership will clearly benefits both parties and mutual customers, and is just the latest in a series of moves from Microsoft under new CEO Satya Nadella. This move might help to maintain the status quo, and to tempt consumers over to Office 365 subscriptions. After all, Dropbox is very popular, and given the growing user base of cloud-based competitors like Google Docs, it is a smart move by the company to keep users hooked.
On the other hand, for Dropbox it is a lot easier to partner with companies and build a platform rather than try and create a rival to Microsoft Office. Additionally, Dropbox has committed to building a Windows Phone version of its app which will be available in the coming months.
The companies say that the updates will be made available to Android and iOS devices over the coming weeks. Plus, Windows phone and tablet users are finally getting a Dropbox app of their own in the coming months. The Web apps will not be updated until the first half of next year, so for now this is a mobile-only affair.
I could not have written this article without the help of the following sources: