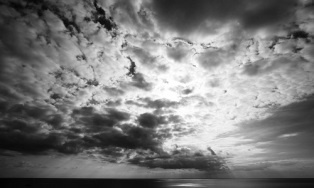 Recently, I met with an IT Director for a medium sized business. He began to tell me that things are not going so great. The prior week, he was called into a meeting with the CFO and CIO. They said "Our data center strategy is calling for a forecast of cloudy skies." They were teasing him and having fun with it, but went on to explain how they want him to transform their entire business to the Cloud and he had 3 months to get it done. He was visibly irritated and said "just between us" that he doesn't know what that means exactly.
We took a walk through his data center that has yet to be modernized. Lots of servers running lots of applications, many SANs from different manufactures storing data, non-virtualize network gear, older firewalls, cabling everywhere and even an automated tape library for back up. I saw enough and we headed back to his office.
I explained how we were going to help him go back to his management team with an updated forecast for the data center: "Bright sunshine with a mix of puffy white clouds, a much happier place." He started laughing and asked what I meant. I said two words, Hybrid Cloud.
I moved to the white board and sketched out a vision of how we could tackle the problem in phases; a process that takes about 30-45 days. Here's what the vision included:
Phase I –Data Center Modernization Assessment
I let the customer know this would tell us what he has exactly and how we could help him transition to the cloud easily and securely. The #GetModern Assessment also shows what needs to stay on-prem and what should go to the cloud. IDC forecasted that 50% of large enterprises will have hybrid cloud by the end of 2017. Request your free custom #GetModern Assessment (http://getmodernwithfocus.com)
Phase II – Introduce New Technologies
I also told him we needed to expose him to more modernized technologies that can act as his hybrid cloud infrastructure and have connections to the could. Examples include converged and hyper-converged solutions, all flash technology for performance, software defined networks, new back up and DR tools. IDC states that hyper- converged infrastructure will make up 35% of the total integrated market by 2019. It is the largest, fastest growing most valuable technology segments in the industry right now.
Phase III – Shift from Point Products to True Solutions
In this next phase, we would use our engineering expertise to help him sift through all the vendor solution offerings and recommend the best ones to fit their specific needs. Our team would help design the right mix of products for him and bring the right expertise to the deployment of these products while connecting him to the Cloud.
Phase IV – Technology Recommendations, TCOs and ROI
From a cost perspective, the major hybrid cloud vendors now offer what they are all calling "the new consumption model"; a cost effective way to consume IT and Cloud products and services. We understand them and can explain them to his CFO and CIO. All of our recommendations come with a detailed Total Cost of Ownership and Return on Investment document that quickly and clearly demonstrates the benefits and investment returns both financially and technically.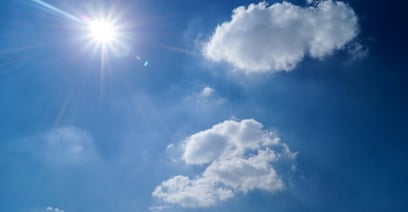 As we were wrapping up, he let out a sigh of relief but continued to have questions. Fast forward and we are now currently on Phase III. Last week, I received a text message from him with a picture of a clear blue sky and puffy white clouds. He bought one each for his CIO and CFO to hang in their office and wrote underneath it, "It's a Hybrid World, a much happier place".
Focus Technology is one of the fastest growing regional VARs in New England. We are helping customers like this on a weekly basis and continue to expand our technical talent. We strive to create solid strategies to make Hybrid IT simple and offer the technologies and services to support your business needs. Request your free custom #GetModern Assessment (http://getmodernwithfocus.com) and please reach out if you need help.