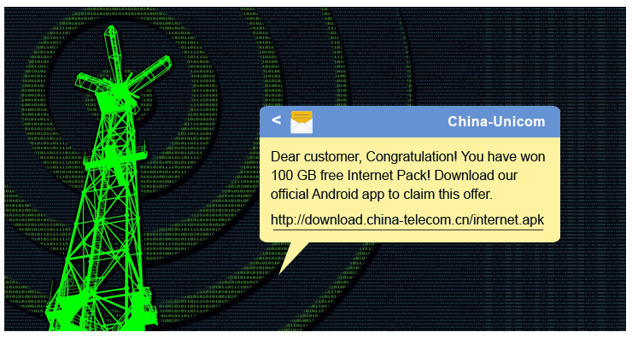 Chinese hackers have set up a fake phone tower to send text messages to Android
mobile users
. The text contains a brief text that states "Congratulations! you have won 100 GB internet pack". Along with the message within the text, includes an URL link that links mobile users to a virus.
SMiShing
The title of this committed crime is called SMiShing.
S
M
i
S
hing
is all about tricking victims by sending out a malware app that links through text. The purpose of this crime is to trick individuals into giving out sensitive information by having them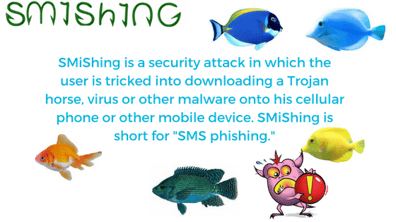 think they have won a free product. If an individual clicks the false link, the hackers are able to access the individual's contacts and send them the fake message as well. The outcome of spreading the message through an individual's contacts is to give the hackers access to bank information and bank apps. The false message is carried out from a Chinese telecom service provider, giving the chinese hackers a huge opportunity to spread the virus.
It is reported that this is the first real world crime being committed by the usage of a BTS (Base transceiver station). BTS is a piece of equipment that is used to
facilitate wireless communication through mobile devices. It is unclear on how the criminals were able to utilize the equipment. However the BTS antenna only reaches up to

22 miles, allowing the hackers to only send a certain amount of messages at a time.
So far the message attacks have only been targeted towards Chinese android mobile users. As this is the case, Check Point researchers have warned that the threat could spread world wide.
There is no word yet, on whether the Chinese hackers have been caught and/or arrested.
Sources: